The amyloid precursor protein: beyond amyloid
Molecular Neurodegeneration
2006
1:5
Received: 15 May 2006
Accepted: 03 July 2006
Published: 03 July 2006
Abstract
The amyloid precursor protein (APP) takes a central position in Alzheimer's disease (AD) pathogenesis: APP processing generates the β-amyloid (Aβ) peptides, which are deposited as the amyloid plaques in brains of AD individuals; Point mutations and duplications of APP are causal for a subset of early onset of familial Alzheimer's disease (FAD). Not surprisingly, the production and pathogenic effect of Aβ has been the central focus in AD field. Nevertheless, the biological properties of APP have also been the subject of intense investigation since its identification nearly 20 years ago as it demonstrates a number of interesting putative physiological roles. Several attractive models of APP function have been put forward recently based on in vitro biochemical studies. Genetic analyses of gain- and loss-of-function mutants in Drosophila and mouse have also revealed important insights into its biological activities in vivo. This article will review the current understanding of APP physiological functions.
Keywords
Amyloid Precursor ProteinAmyloid Precursor Protein GeneThr668 PhosphorylationAmyloid Precursor Protein Transgenic MouseKinesin Light Chain
Background
Alzheimer's disease (AD) is the most common cause of dementia occurring in the elderly. It is characterized pathologically by the deposition of β-amyloid plaques, the accumulation of neurofibrillary tangles and loss of neurons and synapses in selected areas of the brain. The β-amyloid plaques are extracellular deposits of heterogeneous substances of which the major components are 40 to 42 amino acid peptides referred to as β-amyloid peptides (Aβ) that are derived by proteolytic cleavages of the amyloid precursor protein (APP). Liberation of Aβ from APP requires the action of β- and γ-secretases which process APP at amino-terminus and carboxyl-terminus of the Aβ sequence, respectively (reviewed in [1, 2]). Approximately 5–10% of AD cases are familial and cosegregate with autosomal dominant inheritance of mutations in APP [3] and two homologous molecules, presenilin 1 (PS1) [4] and presenilin 2 (PS2) [5] (up-to-date genetic mutations can be found at http://www.alzforum.org). PS1 or PS2 is a necessary component of the high molecular weight complex indispensable for γ-secretase processing of APP. The familial AD (FAD) mutations in the presenilin genes are known to subtly alter the γ-secretase activity to perturb APP proteolysis (reviewed in [6]). This biochemical and genetic evidence places APP and its processing steps in a central position in AD research.
This review focuses on the physiological properties of APP. We start with a general overview of APP, including its family members, expression patterns and processing characteristics. Because APP consists of multiple structural and functional domains, we will focus our review by addressing the properties of the APP ectodomain and the intracellular domain. Finally, we provide an update on the current knowledge concerning the APP function in vivo. Understanding the biology of APP is not only interesting from an intellectual point of view, but also of immediate relevance to AD pathogenesis. Because Aβ is generated as part of the normal APP processing, deregulation of Aβ production is expected to simultaneously affect other APP processing metabolites and perhaps APP regulated pathways. As such, perturbation of normal APP physiology may contribute to AD pathogenesis in an Aβ dependent or independent manner. The pathophysiology of Aβ, which has been the focal point of AD research for the past two decades, has been extensively discussed and is beyond the scope of this review.
I. APP: an overview
a) The APP family
APP is a member of a family of conserved type I membrane proteins including APL-1 in
C. elegans
[
7
], APPL in
Drosophila
[
8
,
9
] and APP [
10
,
11
], APP like protein 1 (APLP1) [
12
] and 2 (APLP2) [
13
,
14
] in mammals (reviewed in [
15
]) (Figure
1
). These proteins share several conserved motifs, including the E1 and E2 domains in the extracellular sequences and the intracellular domain, the latter exhibits the highest sequence identity. Of interest, the Aβ peptide domain is not conserved and is unique to APP. However, the mammalian APP homologs play redundant activities in vivo (discussed in "The in vivo Function of APP"). The functional conservation of the APP across species is documented by the partial rescue of the
Drosophila APPL
null behavioral phenotype by human
APP
[
16
]. These observations indicate that the conserved motifs, rather than the Aβ sequence, likely underlie the conserved physiological functions among the APP species.
b) APP expression
Mammalian APP family of proteins is abundantly expressed in the brain. Similar to Drosophila APPL [17], APLP1 expression is restricted to neurons [18]. However, although highly enriched in the brain, APP and APLP2 can be detected in most other tissues as well. The human APP gene, located on the long arm of chromosome 21, spans approximately 240 kb and contains at least 18 exons [19, 20]. Alternative splicing generates APP mRNAs encoding several isoforms that range from 365 to 770 amino acid residues. The major Aβ peptide encoding proteins are 695, 751, and 770 amino acids (referred to as APP695, APP751 and APP770). APP751 and APP770 contain a domain homologous to the Kunitz-type serine protease inhibitors (KPI) in the extracellular sequences, and these isoforms are expressed in most tissues examined. APP695 isoform lacks the KPI domain and is predominately expressed in neurons [21]. The reason and functional significance for this apparent tissue-specific alternative splicing is poorly understood.
c) APP processing
APP undergoes constitutive secretory pathway and is post-translationally modified in route by N- and O-glycosylation, phosphorylation and tyrosine sulphation (reviewed in [
2
]). Full-length APP is sequentially processed by at least three proteinases termed α-, β- and γ-secretases (Figure
2
). Cleavage by α-secretase or β-secretase within the luminal/extracellular domain results in the shedding of nearly the entire ectodomain to yield large soluble APP derivatives (called APPsα and APPsβ respectively) and generation of membrane-tethered α- or β-carboxyl-terminal fragments (CTFs). The major neuronal β-secretase is a transmembrane aspartyl protease, termed BACE1 (β-site APP cleaving enzyme) [
22
–
24
]. Several zinc metallopreoteinases, including TACE/ADAM17, ADAM9, ADAM10 and MDC-9, and an aspartyl protease BACE2 can cleave APP at the α-secretase site located within the Aβ domain (Figure
2
) (reviewed in [
25
]), essentially precluding the generation of intact Aβ. Following the extracellular cleavages, γ-secretase processes APP at the carboxyl-terminus of Aβ, producing either a 3 kDa product (p3 in combination with the α-secretase) or Aβ (in concert with BACE1 cleavage), respectively, and the APP intracellular domain (AICD). The γ-secretase activity is primarily executed by a high molecular weight complex containing at least presenilin, nicastrin, anterior pharynx defective (APH1) and presenilin enhancer (PEN2) (reviewed in [
6
,
26
]). However, the list of γ-secretase components may be expanding as other new molecules are being identified [
27
]. These processing events occur in various organelles and also on cell surface. In neurons, APP is anterogradely transported along the axons and is proteolytically processed during transit ([
28
–
30
], also discussed below). In non-neuronal cells, APP that reaches to plasma membrane is internalized within minutes through the conserved YENPTY motif (Figure
1
) [
31
]. Following endocytosis, APP is delivered to late endosomes or can be recycled back to cell surface [
32
].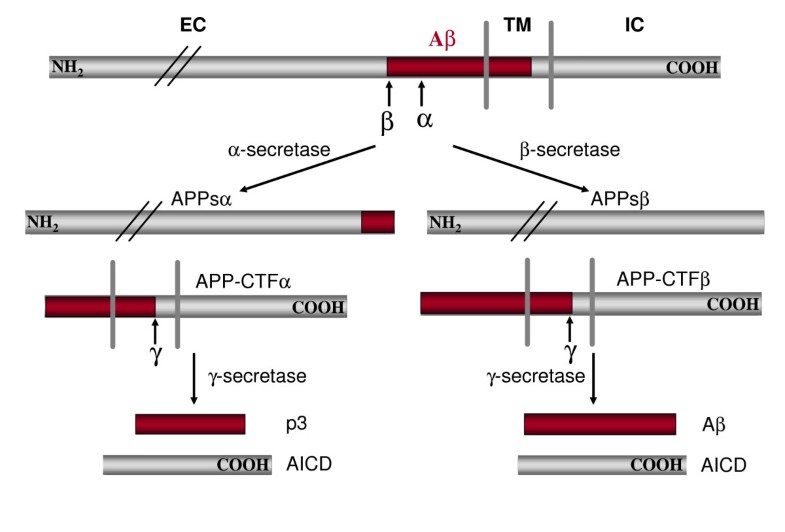 II. The APP ectodomain
Various subdomains can be assigned to the APP extracellular sequences based on its primary sequences and structural studies (reviewed in [33, 34]). These include the E1 domain, which consists of the N-terminal growth factor-like domain (GFLD) and the metal (copper and zinc) binding motif, the Kunitz-type protease inhibitor (KPI) domain present in APP751 and APP770 isoforms, the E2 domain which include the RERMS sequence and the extracellular matrix components (heparin, collagen, and laminin). We address below the functional studies associated with the APP extracellular domain.
a) Cell surface receptor
The analogy of the secondary structures and proteolytic processing profiles between Notch and APP predicts that APP could function as a cell surface receptor similar to Notch (reviewed in [35]). Supporting this hypothesis, Bruce Yankner's group reported that the β-amyloid peptide could bind to APP and thus could be a candidate ligand for APP [36]. Another piece of evidence came from Ho and Sudhof (2004) which showed that APP extracellular domain bind to F-spondin, a neuronally secreted glycoprotein, and this interaction regulates Aβ production and downstream signaling [37]. Similarly, the Nogo-66 receptor was recently shown to interact with the APP ectodomain and by which means affect Aβ production [38]. Finally, the fact that the extracellular domains of the APP family of protein could potentially interact in trans (discussed below) suggest that APP molecules can interact in a homophilic manner. However, while the concept is appealing, the evidence that APP could function as a bona fide surface receptor remains speculative.
b) Cell adhesion
Data linking cell surface APP in cell-substratum and cell-cell adhesion are perhaps more convincing. The E1 and E2 regions have been shown to interact with extracellular matrix proteins and heparan sulfate proteoglycans (reviewed in [39]), supporting its role in cell-substratum adhesion. The same sequences have also been implicated in cell-cell interactions. Specifically, X-ray analysis revealed that the E2 domain of APP could form antiparallel dimers [40]. Such a structure has the potential to function in trans-cellular adhesion. Cell culture studies support the homo- or hetero-dimer formation of the APP family members, and the trans-dimerizations have been shown to promote cell-cell adhesion [41]. However, this activity appears to be mediated by the E1 domain. Downstream of the E1 and E2 regions, a "RHDS" motif in the extracellular domain of APP within the Aβ sequence also appears to promote cell adhesion. It is believed that this region acts in an integrin-like manner by homology to the "RGD" sequence [42]. In this regard, it is interesting that APP colocalizes with integrins on the surface of axons and at sites of adhesion [43, 44].
c) Neurite outgrowth and synaptogenesis
A neurotrophic and synaptogenic role for APP is perhaps the most consistently documented and arguably the best established, and this function may be linked to its adhesive properties described above. A number of publications have pointed to an important role of the APP extracellular domain in this activity, both as a full-length protein and as a secreted molecule (APPs) following ectodomain shredding. Thus, APP may exert these activities in both autocrine and paracrine fashions. APP expression is upregulated during neuronal maturation and differentiation [45, 46]. Its expression is also induced during traumatic brain injury both in mammals and in Drosophila [47–50]. APP undergoes rapid anterograde transport and is targeted to the synaptic sites [21, 29, 51, 52], where the levels of secreted APP coincide with synaptogenesis [53].
The crystal structure of the E1 domain shows similarities to known cysteine-rich growth factors that it is thus termed as the growth factor-like domain (GFLD) [54]. One of the earliest indications of APP function came from the observation that assessing fibroblasts treated with an antisense APP construct grew slower and the growth retardation can be restored by treatment with secreted APPs [55]. The active domain was subsequently mapped to a pentapeptide motif "RERMS" in the E2 domain [56]. The activity is not limited to fibroblasts as infusion of this pentapeptide or APPs into brain resulted in increased synaptic density and improved memory retention in animals [57, 58], while injection of APP antibodies directly into the brain led to impairment in behavioral tasks in adult rat [57]. This finding is corroborated by reports showing that reduction of APP is associated with impaired neurite outgrowth and neuronal viability in vitro and synaptic activity in vivo [59–61]. A recent paper further substantiated this finding, showing that the growth promoting property is mediated by the ability of APPsα to down-regulate CDK5 and inhibit tau hyperphosphorylation [62]. Finally, Caille et al. indicated the presence of binding sites for APPs in epidermal growth factor (EGF)-responsive neural stem cells in the subventricular zone in the adult rodent brain [63]. In this context, APPsα acts as a co-factor with EGF to stimulate the proliferation of these cells both in neurospheres in culture and in vivo. Because APPs levels have been reported to be reduced in individuals with AD [64], this result raises the possibility that the loss of the trophic activity of APPs, in concert with the reduction of other growth factors in the brain, may contribute to the neurodegeneration in AD.
III. The APP intracellular domain
The high degree of sequence conservation between the intracellular domain of APP, APLP1, and APLP2 predicts that it is a critical domain regulating APP function. Indeed, multiple important roles have been assigned to this domain, most notably in axonal transport and cell signaling.
IV. In vivo function of APP
The in vivo gain- and loss-of-function phenotypes associated with the APP family of proteins in model systems (C. elegans, Drosophila and mice) are consistent with a role of APP in neuronal and synaptic function in both central and peripheral nervous systems. This may involve the APP ectodomain, the APP intracellular domain, the Aβ sequence or, indeed, the cross communications among these motifs. These findings will be discussed next in the respective animal models.
a) C. elegans
Although the cloning of the C. elegans APP homolog APL-1 was published in 1993 [7], to date there has been no report describing the APL-1 null mutant. Using RNA-interference (RNAi) method, Zambrano et al. reported that worms treated with APL-1 RNAi exhibit defect in pharyngeal pumping and, interestingly, this phenotype is shared with Fe65 homolog-1 (Feh-1) treated worms [114], suggesting that these two proteins act in the same pathway possibly through direct physical interactions. Of note, the C. elegans pharynx is a cholinergic neuromuscular structure that uses acetylcholine as a neurotransmitter. A possible role of the APL-1/Feh-1 complex in regulating the cholinergic function is provided by the same group showing that mutation in Feh-1 results in a reduction of acetylcholinesterase gene expression [115]. Because our own studies document an indispensable activity of the APP family of proteins in regulating cholinergic neurotransmission at the neuromuscular junction (NMJ) ([116], and see below), these findings taken together support a conserved role of APP family of proteins in cholinergic pathway possibly in a Fe65 dependent manner.
b) Drosophila
Drosophila mutants lacking APPL are viable, fertile but exhibit subtle behavioral defects that can be partially rescued by human APP, demonstrating functional conservation [16]. Subsequent analysis revealed that these mutant flies show reduced synaptic bouton numbers at neuromuscular junction [117], and that this activity appears to require the formation of a complex with the cell adhesion molecule fasciclin and Drosophila Mint/X11 [82]. Consistent with a role of APPL in synapse development, ectopic overexpression of APPL leads to satellite bouton formation at Drosophila NMJ, and this activity requires the APP YENPTY domain where adaptor protein interaction takes place [117].
Similar gain-of-function studies in Drosophila revealed a spectrum of other phenotypes, ranging from a blistered wing phenotype that may involve cell adhesion [118], a Notch gain-of-function phenotype in mechano-sensory organs, which reveals a possible genetic interaction of APP and Notch through Numb [119], and a neurite outgrowth phenotype that is linked to the Abelson tyrosine kinase and JNK stress kinase [50]. Although the pathways implicated in each of the phenotypes are distinct, they all seem to require the APP intracellular domains and protein-protein interactions through the conserved YENPTY sequence. These ectopic overexpression studies should be interpreted with caution though as APP interacts with numerous adaptor proteins through the YENPTY motif and many of the APP binding partners also interact with other proteins. Therefore, the phenotypes observed by overexpressing APP or APPL could be caused by the disturbance of a global protein-protein interaction network. Interestingly, similar to the mammalian system, APPL is found to be upregulated in traumatic brain injury [50], supporting a potential activity of APP family of proteins in nerve injury response and repair. However, the functional significance of this nerve injury response remains poorly understood.
c) Mice
To understand the in vivo function of APP and its processing products, we generated an APP null mutation in mice [120]. Homozygous APP deficient mice are viable and fertile. However, the mutant animals were smaller (15–20% less body weight) than age-matched controls and exhibited decreased locomotor activity and forelimb grip strength, indicating compromised neuronal or muscular function. In addition, the majority of the mice show reactive gliosis, suggesting undefined neuronal damage in brain activity. Indeed, subsequent analysis reveal that these mice exhibit behavioral deficit in Morris water maze task [121, 122], and are also defective in long-term potentiation and GABA-mediated postsynaptic response [123]. However, these impairments were not caused by a gross loss of neurons or synapses because unbiased stereological quantification failed to detect any loss of neurons or synaptic bouton numbers in aged APP null mice [122]. The relatively subtle phenotype of the APP deficient mice indicated that the presence of other APP family members may compensate for the loss of APP. Indeed, while the APLP1 and APLP2 single null mice are also viable and fertile, APP/APLP2, APLP1/APLP2 double knockout mice showed early postnatal lethality [124, 125]. Intriguingly, the APP/APLP1 double null mice are viable [125], revealing a property of APLP2 that is uniquely required when APP or APLP1 is absent.
In the peripheral nervous system, APP/APLP2 double knockout animals exhibited poorly formed neuromuscular junction (NMJ) with reduced apposition of pre- and postsynaptic elements of the junctional synapses [116]. The number of synaptic vesicles at the presynaptic terminals were also reduced, a finding confirmed by defective neurotransmitter release. With knowledge of the NMJ phenotypes of APP/APLP2 double knockout mice in mind, examination of the parasympathetic submandibular ganglia of these animals also showed a reduction in active zone size, synaptic vesicle density, and number of docked vesicles per active zone [126]. The NMJ phenotypes in APP/APLP2 null mice are in some aspect similar but in others distinct from APPL null Drosophila, as the latter exhibits a subtle reduction of synaptic bouton numbers without structural alterations [117]. Furthermore, while the major synaptic phenotype can be seen when APPL is overexpressed [82, 117], no NMJ defect can be detected in transgenic mice overexpressing human APP (HZ, unpublished data).
Deficiency of all three APP genes led to death shortly after birth. The majority of the animals showed cortical dysplasia, suggestive of migrational abnormalities of the neuroblasts and partial loss of cortical Cajal Retzius cells [127]. Interestingly, this defect is phenocopied in mice doubly deficient in APP binding proteins Fe65 and Fe65L1 [128]. This result is consistent with the aforementioned C. elegans studies, all supporting a common physiological activity of the APP/Fe65 complex. It should be pointed out, however, that morphological similarity does not necessarily implicate functional interaction. Indeed, cortical dysplasia with variable penetrance also exists in mice deficient in various other proteins including PS1, β1 and α6 integrins, focal adhesion kinase, α-dystroglycan and laminin α2 (reviewed in [129]).
Taken together, the recent findings presented a convincing picture that members of the APP gene family play essential roles in the development of the nervous system relating to synapse structure and function, as well as in neuronal migration or adhesion. Whether these abnormalities underlie the early postnatal survival of the animals remain to be established. Further, whether these activities are due to mechanical properties or mediated by activating signaling pathways, or both, are interesting questions that remain to be elucidated.
Concluding remark
This review has examined some of the physiological functions of APP, which has so far met with a great deal of excitement and scientific challenge. It is clear that APP undergoes complex regulation and is important for neuronal and synaptic function. Since genetic mutations in APP are causal for AD, and abnormal expression of wild-type APP are linked to AD pathology in Down Syndrome patients [130] and early-onset AD with cerebral amyloid angiopathy [131]), it is reasonable to speculate that disturbance of APP-regulated pathways may directly contribute to neuronal and synaptic impairment and disease pathogenesis in an Aβ-dependent or Aβ-independent manner. As such, a more complete understanding of AD pathogenesis will likely require greater insights into the physiological functions of APP.
Abbreviations
AD:

Alzheimer's disease
APP:

amyloid precursor protein
APLP1:

APP-like protein 1
APLP2:

APP-like protein 2
Aβ:

β-amyloid
EC:

extracellular
IC:

intracellular
TM:

transmembrane
AICD:

APP intracellular domain
CTF:

carboxyl terminal fragment
KLC:

kinesin light chain
NMJ:

neuromuscular junction.
Authors' Affiliations
(1)
Huffington Center on Aging and Department of Molecular & Human Genetics, Baylor College of Medicine, Houston, USA
(2)
Department of Neurosciences, University of California, San Diego, La Jolla, USA
Copyright
© Zheng and Koo; licensee BioMed Central Ltd. 2006
This article is published under license to BioMed Central Ltd. This is an Open Access article distributed under the terms of the Creative Commons Attribution License (http://creativecommons.org/licenses/by/2.0), which permits unrestricted use, distribution, and reproduction in any medium, provided the original work is properly cited.