Erratum to: A multifunctional therapeutic approach to disease modification in multiple familial mouse models and a novel sporadic model of Alzheimer's disease
Molecular Neurodegeneration
2016
11:40
Received: 9 May 2016
Accepted: 11 May 2016
Published: 18 May 2016
Unfortunately, after publication of this article, it was noticed that Fig. 6 (Fig.
1
here) was incorrect. The corrected figure can be seen below.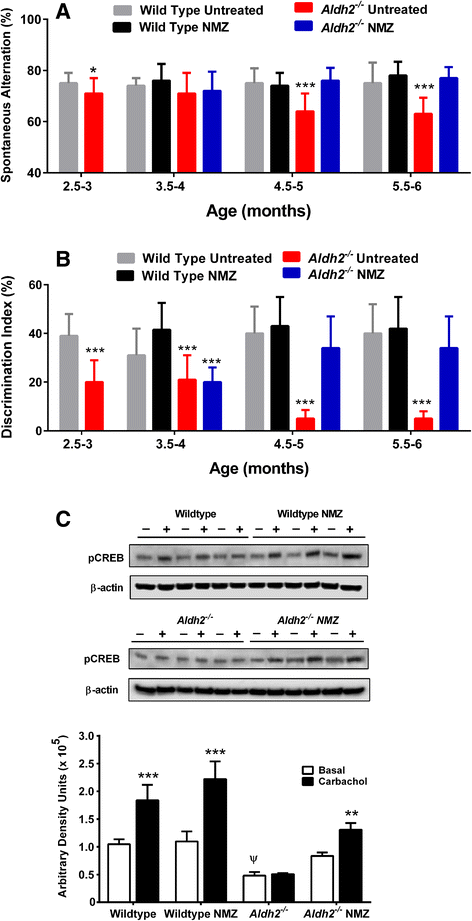 Open AccessThis article is distributed under the terms of the Creative Commons Attribution 4.0 International License (http://creativecommons.org/licenses/by/4.0/), which permits unrestricted use, distribution, and reproduction in any medium, provided you give appropriate credit to the original author(s) and the source, provide a link to the Creative Commons license, and indicate if changes were made. The Creative Commons Public Domain Dedication waiver (http://creativecommons.org/publicdomain/zero/1.0/) applies to the data made available in this article, unless otherwise stated.
(1)
Department of Medicinal Chemistry and Pharmacognosy, College of Pharmacy, University of Illinois at Chicago, Chicago, IL, USA
(2)
Department of Psychiatry, Neuropsychiatric Institute, University of Illinois at Chicago, Chicago, IL, USA
(3)
Department of Pathology, The Taub Institute for Research on Alzheimer's Disease and the Aging Brain, Columbia University, New York, NY, USA
(4)
Department of Biomedical & Molecular Sciences, Faculty of Health Sciences, Queen's University, Kingston, ON, Canada
(5)
Department of Anatomy and Cell Biology, College of Medicine, University of Illinois at Chicago, Chicago, IL, USA
Luo J, Lee SH, VandeVrede L, Qin Z, Aissa MB, Larson J, Teich AF, Arancio O, D'Souza Y, Elharram A, Koster K, Tai LM, LaDu MJ, Bennett BM, Thatcher GRJ. A multifunctional therapeutic approach to disease modification in multiple familial mouse models and a novel sporadic model of Alzheimer's disease. Mol Neurodegeneration. 2016;11:35. doi:10.1186/s13024-016-0103-6.