Glial contributions to neurodegeneration in tauopathies
Molecular Neurodegeneration
2017
12:50
Received: 10 April 2017
Accepted: 20 June 2017
Published: 29 June 2017
Abstract
Tauopathies are a broad set of neurodegenerative dementias characterized by aggregation of the tau protein into filamentous inclusions that can be found in neurons and glial cells. Activated microglia, astrocytes and elevated levels of proinflammatory molecules are also pathological hallmarks that are found in brain regions affected by tau pathology. There has been abundant research in recent years to understand the role of gliosis and neuroinflammation in neurodegenerative diseases, particularly in Alzheimer's disease (AD) which is the most common form of dementia. AD is a tauopathy characterized by both extracellular amyloid-β plaques in addition to intracellular neurofibrillary tangles and neuropil threads containing aggregated tau protein. Accumulating evidence suggests that neuroinflammation offers a possible mechanistic link between these pathologies. Additionally, there appears to be a role for neuroinflammation in aggravating tau pathology and neurodegeneration in tauopathies featuring tau deposits as the predominant pathological signature. In this review, we survey the literature regarding inflammatory mechanisms that may impact neurodegeneration in AD and related tauopathies. We consider a physical role for microglia in the spread of tau pathology as well as the non-cell autonomous effects of secreted proinflammatory cytokines, specifically interleukin 1 beta, interleukin 6, tumor necrosis factor alpha and complement proteins. These molecules appear to have direct effects on tau pathophysiology and overall neuronal health. They also indirectly impact neuronal homeostasis by altering glial function. We conclude by proposing a complex role for gliosis and neuroinflammation in accelerating the progression of AD and other tauopathies.
Keywords
Tau
Tauopathy
Alzheimer's disease
Neurodegeneration
Neuroinflammation
Gliosis
Microglia
Astrocyte
Background
Abnormal accumulation of the tau protein into intracellular, fibrillar aggregates is observed across a broad spectrum of neurodegenerative disorders that are collectively referred to as tauopathies. Over twenty-five syndromes are currently classified as a tauopathy, which highlights the heterogeneity of these diseases and their vast impact in the dementia field. Primary tauopathies feature tau deposits as the predominant pathological signature and include progressive supranuclear palsy (PSP), corticobasal degeneration (CBD), frontotemporal dementia and parkinsonism linked to chromosome 17 (FTDP-17), Pick's disease (PiD), chronic traumatic encephalopathy (CTE) and argyrophilic grain disease (AGD) [1, 2]. Alzheimer's disease (AD), the most prevalent cause of dementia, is categorized as a secondary tauopathy due to the additional presence of amyloid-β (Aβ) plaques and their hypothesized role in initiating AD pathogenesis [3]. In addition to toxic protein aggregates, activated astrocytes and microglia as well as elevated proinflammatory markers are other common pathological hallmarks of tauopathies [4, 5].
The notion that neuroinflammatory processes contribute to disease was once provocative, yet recent studies have uncovered multiple mechanisms by which aberrant gliosis causes detrimental neuroinflammation that can influence tau pathology and accelerate neurodegeneration. One hypothesized mechanism postulates that early activation of microglia stimulates the release of cytokines and chemokines that in turn co-activate astrocytes [6]. Potentially, chronic glial activation alters tau biology, encouraging tangle formation, and diminishes neuronal fitness [4–6]. Furthermore, glial cells may also be physically contributing to the spread of tau pathology [7]. This review summarizes the literature pertaining to the effects of neuroinflammation and gliosis on tau pathology and vice versa. Both in vitro and in vivo mechanistic studies are discussed alongside evidence from neuropathology and neuroimaging reports in AD and non-AD tauopathy patients. We further explore potential mechanisms by which inflammatory processes may alter the neurodegenerative process.
Conclusions
Accumulating evidence clearly illustrates a role for gliosis and neuroinflammation in tau pathogenesis and neurodegeneration. However, initiation of inflammatory pathways may occur differently depending on the disease. Fig.
1
summarizes the proposed roles of gliosis and neuroinflammation in AD that haven been discussed in this review. In AD, Aβ aggregation likely stimulates early gliosis and release of inflammatory mediators such as IL-1β and C1q. These molecules may act via autocrine and or paracrine signaling to increase levels of other proinflammatory cytokines such as TNF-α or IL-6 from microglia, astrocytes, neurons, and potentially other cell types in the brain. Early complement signaling has also been shown to stimulate microglial-mediated phagocytosis of synapses. Together these mechanisms may lead to early neuronal dysfunction and synapse loss. Microgliosis can also co-activate astrocytes, provoking both loss and gain of functions impacting neuronal health. Additionally, neuroinflammation offers one way by which tau biology may be altered in AD through increasing phosphorylation that may promote protein misfolding, though other mechanisms likely also co-exist. Tau pathology then progresses through the spread of toxic tau species, neuronal vulnerability, or by combination of both mechanisms. Altogether, Aβ and tau pathology combine with gliosis to drive neurodegeneration and cell death in AD.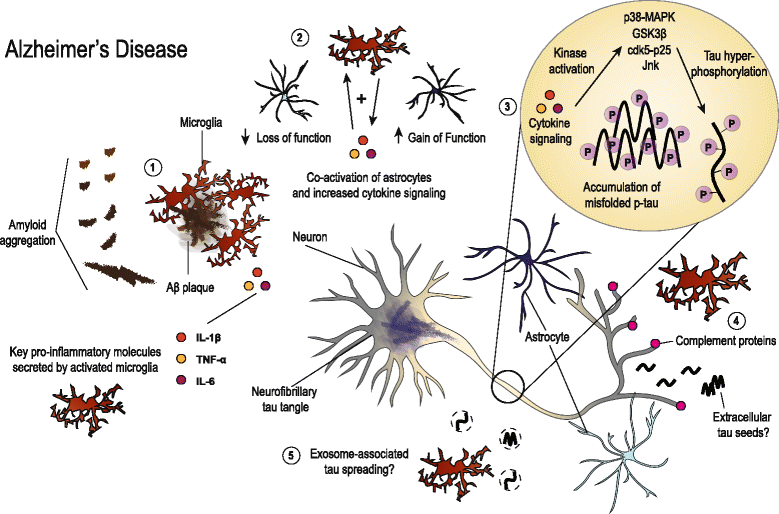 Primary tauopathies share many common features with AD, but early mechanisms of neuroinflammation in disease may differ due to the lack of amyloid pathology in pure tauopathies. Fig.
2
illustrates current thinking regarding the role of glial cells in these diseases, though there is a need for more literature directly pertaining to tau-mediated neurodegenerative mechanisms outside of the AD field. Microgliosis may be sparked by early tau aggregates, possibly tau seeds, in primary tauopathies. This may then initiate a positive feedback loop, similar to that for AD, which amplifies microglial activation, co-activates astrocytes, and aggravates pathways influencing tau hyperphosphorylation and aggregation. Tau accumulation in glial cells leads to further dysfunction that impacts neuronal viability in a non-cell-autonomous fashion, However, it remains unclear why there are phenotypic differences in the brain regions affected by tauopathy and the types of tau aggregates that have been described in neuropathology studies. Together, tau pathology and neuroinflammation synergistically drive neurodegeneration and clinical symptoms in tauopathies such as PSP, CBD, FTDP-17, PiD, AGD and CTE.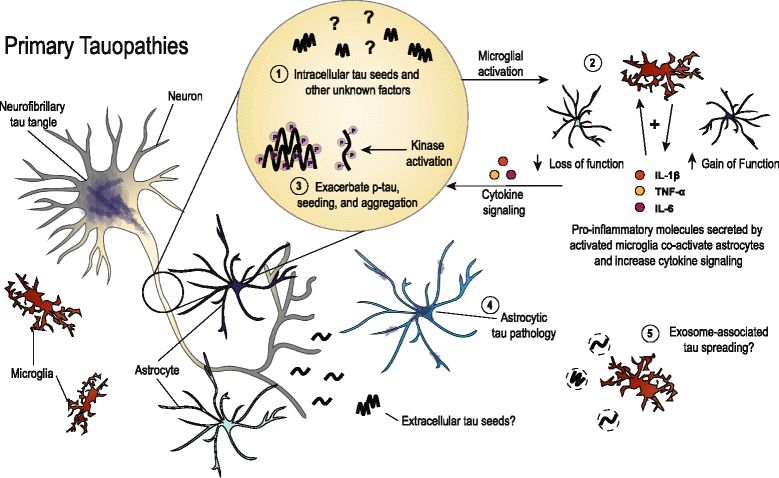 Clearly tau pathogenesis significantly contributes to neurodegenerative diseases. However, there are many outstanding questions that require further research and clarification. For instance, do the genetic risk variants recently found to associate with AD play a role in primary tauopathies? Certain features are shared between AD and other diseases that feature tau aggregation, but there are also some clear distinctions. Therefore, it is also necessary to understand how neuroinflammatory mechanisms, such as cytokine and complement signaling, function in AD and in the absence of amyloid pathology. Furthermore, the influence of these signaling pathways should be explored further, beyond tau phosphorylation, to truly understand if neuroinflammation can contribute to the formation of insoluble, fibrillar tau aggregates. In extension, it is unclear what, if any, role gliosis plays in neurodegeneration. Is gliosis required for brain degenerative phenotypes or are neuroinflammatory molecules released from activated glial cells the main contributors? It may be that tau aggregates are the spark needed for cellular dysfunction in the brain, and neuroinflammation the accelerant for disease progression. Additionally, the phenotypic differences in astrocytic tau pathology are intriguing and the functional consequences should be further explored. Finally, recent evidence has indicated that microglia may be contributing to the spread of tau aggregates. The extent to which microglia may physically contribute to disease progression or be influencing tau seeding or spread via neuroinflammation needs further investigation. Addressing these questions will ultimately help explain the relationship between microglial activation, tauopathy progression, and neurodegeneration and hopefully facilitate the creation of drugs that will be effective in treating tauopathy disorders.
Abbreviations
AD:

Alzheimer's disease
AGD:

Argyrophilic grain disease
ApoE:

Apolipoprotein E
Aβ:

Amyloid beta
CBD:

Corticobasal degeneration
cdk5:

Cyclin-dependent kinase 5
CSF:

Cerebral spinal fluid
CTE:

Chronic traumatic encephalopathy
CX3CR1:

Microglial-specific fractalkine receptor
Fc:

Fragment crystallizable
FRET:

Förster resonance energy transfer
FTDP-17:

Frontotemporal dementia with parkinsonism linked to chromosome 17
GFAP:

Glial fibrillary acidic protein
GSK-3β:

Glycogen synthase kinase 3
IFNγ:

Interferon gamma
IL:

Interleukin
IL-1β:

Interleukin 1 beta
ISF:

Interstitial fluid
JNK:

c-Jun N-terminal kinase
MAPK:

Mitogen activated protein kinase
NF-κB:

NF-kappaB
NFT:

Neurofibrillary tangle
NT:

Neuropil thread
p-tau:

Phosphorylated tau
PSP:

Progressive supranuclear palsy
TGF-β:

Transformation growth factor beta
TNF-α:

Tumor necrosis factor alpha
TPSO:

Translocator protein
Declarations
Acknowledgements
The authors would like to thank Dr. Gilbert Gallardo for assisting in editing the manuscript and Katie Campbell for helping with figure design.
Funding
Funding for this work was provided by NIH grants NS090934 (DMH), AG04867801 (DMH), F31 AG053976 (CEGL) and grants from the Tau Consortium and the JPB Foundation.
Availability of data and materials
Not applicable.
Authors' contributions
CEGL proposed the topic of the paper, reviewed the literature, drafted and revised the manuscript. CEGL constructed the figures. DMH critically revised the manuscript. All authors read and approved the final manuscript.
Ethics approval and consent to participate
Not applicable.
Consent for publication
Not applicable.
Competing interests
CEGL and DMH are listed as inventors on a patent licensed by Washington University to C2N Diagnostics on the therapeutic use of anti-tau antibodies. DMH co-founded and is on the scientific advisory board of C2N Diagnostics, LLC. C2N Diagnostics, LLC has licensed certain anti-tau antibodies to AbbVie for therapeutic development. DMH is on the scientific advisory board of Proclara and consults for Genentech, Eli Lilly, Denali, AbbVie, and GlaxoSmithKline. The authors have no additional financial interests.
Publisher's Note
Springer Nature remains neutral with regard to jurisdictional claims in published maps and institutional affiliations.
Open AccessThis article is distributed under the terms of the Creative Commons Attribution 4.0 International License (http://creativecommons.org/licenses/by/4.0/), which permits unrestricted use, distribution, and reproduction in any medium, provided you give appropriate credit to the original author(s) and the source, provide a link to the Creative Commons license, and indicate if changes were made. The Creative Commons Public Domain Dedication waiver (http://creativecommons.org/publicdomain/zero/1.0/) applies to the data made available in this article, unless otherwise stated.
Authors' Affiliations
(1)
Department of Neurology, Washington University, Hope Center for Neurological Disorders, Knight Alzheimer's Disease Research Center, St. Louis, USA