Is amyotrophic lateral sclerosis/frontotemporal dementia an autophagy disease?
Molecular Neurodegeneration
2017
12:90
Received: 11 August 2017
Accepted: 7 December 2017
Published: 28 December 2017
Abstract
Amyotrophic lateral sclerosis (ALS) and frontotemporal dementia (FTD) are neurodegenerative disorders that share genetic risk factors and pathological hallmarks. Intriguingly, these shared factors result in a high rate of comorbidity of these diseases in patients. Intracellular protein aggregates are a common pathological hallmark of both diseases. Emerging evidence suggests that impaired RNA processing and disrupted protein homeostasis are two major pathogenic pathways for these diseases. Indeed, recent evidence from genetic and cellular studies of the etiology and pathogenesis of ALS-FTD has suggested that defects in autophagy may underlie various aspects of these diseases. In this review, we discuss the link between genetic mutations, autophagy dysfunction, and the pathogenesis of ALS-FTD. Although dysfunction in a variety of cellular pathways can lead to these diseases, we provide evidence that ALS-FTD is, in many cases, an autophagy disease.
Keywords
Amyotrophic lateral sclerosis
Frontotemporal dementia
Autophagy
Disease-associated genes
Autophagy-related genes
Background
Though various cellular defects are noted in Amyotrophic Lateral Sclerosis (ALS) and Frontotemporal dementia (FTD) including dysregulation of RNA processing, protein aggregation, and oxidative stress, the detailed disease mechanisms remain poorly understood [1, 2]. Emerging evidence from genetic cases points to a role of autophagy in ALS-FTD. Here, we review how specific disease-linked mutations affect proper autophagic function and protein degradation leading to the speculation that ALS-FTD is, at least in part, an autophagy disease.
Conclusions
While dysfunction in multiple cellular processes can underlie the development of ALS/FTD, an assortment of evidence demonstrates a role of autophagy dysfunction in these diseases. The above evidence suggests that different ALS/FTD linked mutations lead to dysfunction in all aspects of autophagy ranging from initiation and cargo recognition to autophagosome fusion with endosomes and lysosomes (Table
1
and Fig.
1
). Dysfunction in any of these steps of autophagy leads to a disruption in protein homeostasis and results in the accumulation of toxic protein aggregates. While general enhancement of autophagy is likely to reduce these protein aggregates, the chronic upregulation of autophagy biogenesis can lead to an imbalance of autophagosome formation and clearance, resulting in neurotoxicity. More directed therapeutic interventions targeted at specific regulation of autophagy receptors or proteins are necessary to combat toxic protein accumulation effectively. For instance, specific compounds (e.g., HSF1 inhibitor) that manipulate p62 protein modifications can alter the ability of p62 to recognize and recruit autophagic cargo [
164
]. Additionally, targeting the activity of kinases involved in autophagy (e.g., ULK1 or TBK1, which modulate selective autophagy) could also provide benefits in protein quality control. However, these initiatives will require further studies in vivo and in vitro to determine how specific mutations alter autophagy and what potential avenues are available for therapeutic intervention.
Table 1
ALS-FTD genes and their disease mutations linked to autophagy
| Gene symbol | Protein | Cellular functions | The effect of the genetic variants | Autophagy involvement |
| --- | --- | --- | --- | --- |
| C9ORF72 | C9orf72 | Proteostasis and vesicle dynamics | Loss/gain of function | |
| TBK1 | TBK1 (TANK-binding kinase 1) | Proteostasis and immunity | Loss of function | Phosphorylates autophagy receptors (p62 and OPTN); regulates selective autophagy. [48–51] |
| OPTN | Optineurin | Proteostasis, vesicle trafficking and axon homeostasis | Loss of function | A substrate of TBK1 and autophagy receptor protein; selective autophagy. [25, 48, 49] |
| SQSTM1 | p62 | Pproteostasis, amino acid sensing, DNA damage response, and oxidative stress | Loss of function | A substrate of TBK1 and ULK1; autophagy receptor; selective autophagy.[25, 50, 68] |
| UBQLN2 | Ubiquilin-2 (UBQLN2) | Proteasome, proteostasis, and vesicle trafficking | Gain/loss of function | |
| TARDBP | TDP-43 | RNA regulation | Loss/gain of function | Regulates autophagy initiation and autophagosome-lysosome fusion. [103] |
| FUS | FUS (fused in sarcoma) | RNA regulation, and DNA damage repair | Loss of function | ALS-linked mutations, P525L and R522G, impair autophagy. [165] |
| VCP | Valosin-containing protein | ER-associated degradation, DNA damage, and membrane dynamics | Loss of function | Regulates the clearance of lysosomes. [128] |
| SOD1 | Superoxide dismutase 1 | Dismutation reaction | Gain of function | |
| ALS2 | Alsin | Proteostasis and endosome biogenesis | Loss of function | Pathogenic mutations in ALS2 disrupt the formation of amphisomes. [150] |
| VAPB | Vesicle-associated membrane protein-associated protein B/C | Proteostasis, calcium homeostasis, and proteins trafficking | Loss of function | Regulates ER-mitochondrial contact. [155] |
| SigR1 | Sigma receptor-1 | Proteostasis, Ca2+ signaling, ion channel activity, synaptic plasticity. | Loss of function | |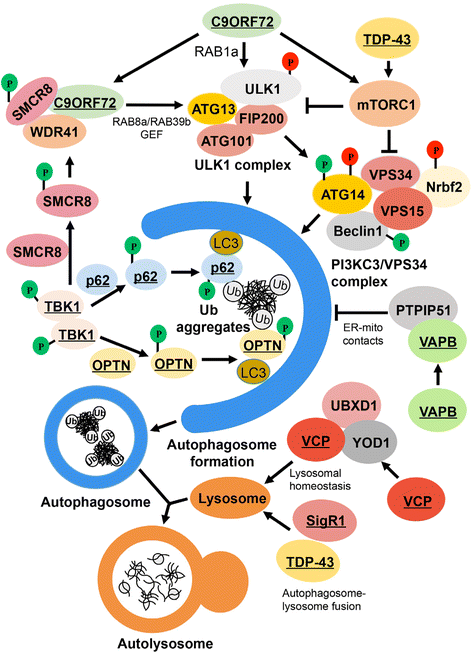 Abbreviations
ALS:

Amyotrophic lateral sclerosis
Atg:

Autophagy-related genes
C9ORF72:

Chromosome 9 open reading frame 72
CK2:

Casein kinase 2
ER:

Endoplasmic reticulum
FTD:

Frontotemporal dementia
FTLD:

Frontotemporal lobar degeneration
FUS:

Fused in sarcoma
GEF:

Guanine nucleotide exchange factor
GRD:

Glycine-rich domain
HACE1:

HECT domain and ankyrin repeat containing E3 Ub ligase 1
IBM:

Inclusion body myopathy
IBs:

Inclusion bodies
Keap1:

Kelch-like ECH-associated protein 1
LC3:

Microtubule-associated protein1 light chain 3
LIR:

LC3 interacting regain
mTORC1:

Mechanistic target of rapamycin complex 1
NBR1:

Neighbor of BRCA1 gene 1
OPTN:

Optineurin
PTPIP51:

Protein tyrosine phosphatase interacting protein 51
RRM:

RNA recognition motifs
SigR1:

Sigma receptor-1
SMCR8:

Smith-Magenis Chromosome Region gene 8
SOD1:

Cu-Zn Superoxide Dismutase 1
TBK1:

TANK-binding kinase 1
TDP-43:

Transactive response DNA-binding protein 43
TFEB:

Transcription factor EB
TRIM21:

Tripartite motif-containing protein 21
UBA:

ubiquitin-binding domain
UBQLN2:

Ubiquilin 2
ULK1:

Unc-51 Like Autophagy Activating Kinase 1
UPS:

The ubiquitin-proteasome system
VAPB:

Vesicle associated membrane protein associated protein B
VCP:

Valosin containing protein
WDR41:

WD repeat domain 41
WIPI2:

WD-repeat protein interacting with phosphoinositides 2
YOD1:

Yeast OTU deubiquinating enzyme 1
Declarations
Acknowledgements
We are thankful to all members of Yue and Chen laboratories for the critical reading and discussion of the manuscript.
Funding
This work was partially supported by NIH grant R01 NS060123 (ZY); Young One Thousand TalentProgram of China (SC); China Scholarship Council Fellowship (ZD).
Availability of data and materials
Not applicable.
Authors' contributions
ZD and PS wrote the manuscript. SC and ZY provided critical feedback. All authors read and approved the final manuscript.
Ethics approval and consent to participate
Not applicable.
Consent for publication
All authors have given their consent for publication.
Competing interests
All authors declare that they have no competing interests.
Publisher's Note
Springer Nature remains neutral with regard to jurisdictional claims in published maps and institutional affiliations.
Open AccessThis article is distributed under the terms of the Creative Commons Attribution 4.0 International License (http://creativecommons.org/licenses/by/4.0/), which permits unrestricted use, distribution, and reproduction in any medium, provided you give appropriate credit to the original author(s) and the source, provide a link to the Creative Commons license, and indicate if changes were made. The Creative Commons Public Domain Dedication waiver (http://creativecommons.org/publicdomain/zero/1.0/) applies to the data made available in this article, unless otherwise stated.
Authors' Affiliations
(1)
Brain center, Zhongnan Hospital, Wuhan University, Wuhan, China
(2)
Taihe Hospital, Hubei University of Medicine, Shiyan, China
(3)
Department of Neurology, The Friedman Brain Institute, Icahn School of Medicine at Mount Sinai, New York, USA