Genetics of amyotrophic lateral sclerosis: an update
Molecular Neurodegeneration
2013
8:28
Received: 8 April 2013
Accepted: 29 July 2013
Published: 13 August 2013
Abstract
Amyotrophic lateral sclerosis (ALS) is a progressive neurodegenerative disorder involving both upper motor neurons (UMN) and lower motor neurons (LMN). Enormous research has been done in the past few decades in unveiling the genetics of ALS, successfully identifying at least fifteen candidate genes associated with familial and sporadic ALS. Numerous studies attempting to define the pathogenesis of ALS have identified several plausible determinants and molecular pathways leading to motor neuron degeneration, which include oxidative stress, glutamate excitotoxicity, apoptosis, abnormal neurofilament function, protein misfolding and subsequent aggregation, impairment of RNA processing, defects in axonal transport, changes in endosomal trafficking, increased inflammation, and mitochondrial dysfunction. This review is to update the recent discoveries in genetics of ALS, which may provide insight information to help us better understanding of the disease neuropathogenesis.
Keywords
Amyotrophic lateral sclerosisDisease-related gene mutationsAutophagyApoptosisOxidative stressGlutamate excitotoxicity
Background
Amyotrophic lateral sclerosis (ALS) is a heterogeneous group of neurodegenerative disorders characterized by progressive loss of motor neurons of the primary motor cortex, brainstem and spinal cord, consequently resulting in muscle weakness, paralysis and ultimately the death [1]. Patients present with either limb onset (80% cases) or bulbar onset (20% cases). In limb onset cases, symptoms appear either distally or proximally in either the upper or lower limb. Bulbar onset cases usually manifest with dysarthria and dysphagia, and limb symptoms can develop along with bulbar symptoms or may occur in the due course of the disease within a year [1]. Most ALS patients come across both upper motor neuron (UMN) and low motor neuron (LMN) signs. The typical age onset is about 55 years [2]. It progresses at a fast pace with most of the patients dying within 3–5 years of the onset [2]. However there is also a small subset of ALS cases that present with a relatively slower disease course. The incidence of the disease is approximately similar worldwide ranging from 1 to 2 new cases per 100,000 individuals every year and the prevalence is around 4–6 cases per 100,000 individuals [2].
ALS has no definitive diagnostic test and it is diagnosed clinically in most cases. There is no cure for ALS, although the only FDA approved drug Riluzole may increase certain ALS patient survival by 3 months [3]. Considerable progress has been made in comprehending the genetics of ALS in the past decade. Interestingly, recent studies have demonstrated that ALS may be a multisystem neurodegenerative disease in which brain and brain stem are also affected [1–3]. For example, several cases suffered from ALS exhibit symptoms of cognitive impairment, which is pathologically characterized by cytoplasmic ubiquitin-positive inclusions in hippocampus and neocortical neurons in addition to anterior horn neurons [1–3]. In this review, we summarize the genetic breakthroughs in familial ALS (fALS) and sporadic ALS (sALS) and depict how it shapes our understanding of disease pathogenesis and our quest for rational therapies.
Genetics of ALS
ALS can be inherited in an autosomal dominant, autosomal recessive, or X-linked manner. 90% ALS are sporadic cases with no clear genetic linkage. However, the remaining 10% of cases show familial inheritance [
4
,
5
]. In the last few years, there has been a rapid advance in our knowledge of genetic causes for ALS. Furthermore, the relationship between the genetic subtypes and the pathological subtypes as well as clinical phenotype has become more and more clear. In addition to superoxide dismutase 1 (SOD1), mutations in the genes coding for TAR DNA-Binding Protein (TARDBP), fused in sarcoma (FUS), Ubiquilin2 (UBQLN2), C9ORF72 and several others are closely associated with typical clinical phenotype. Figure
1
provides up-to-date findings of genetic defects in ALS and the underlying mechanisms for the cause and pathogenesis of the disease.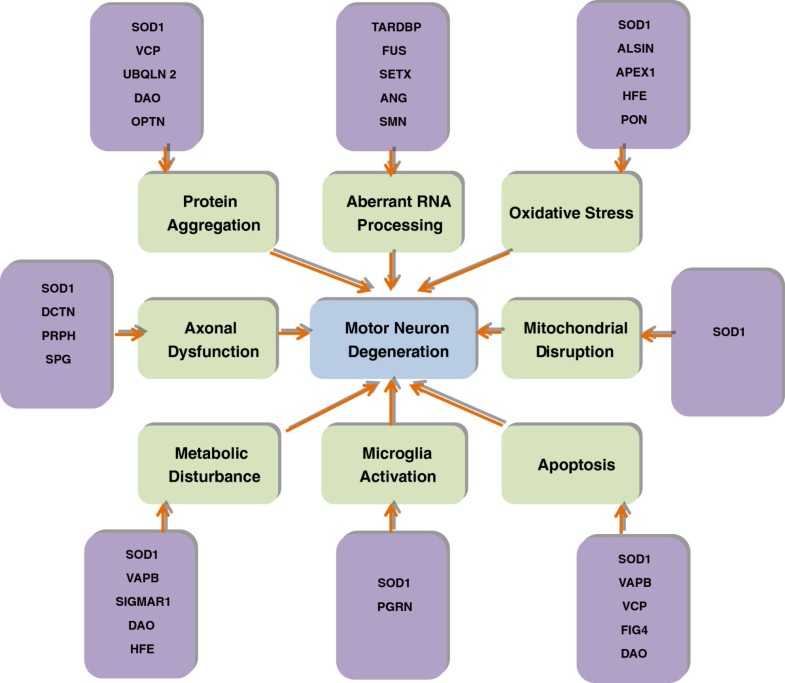 Genetics of fALS
The causative genes have been identified in almost 5-10% of all fALS cases to date [
4
,
5
]. Among those 20% of fALS cases are caused by the mutation in SOD1 gene, 4-5% of fALS cases are the results of mutations in TARDBP and FUS genes, more than 30% of fALS cases are associated with C9ORF72 mutations and the rest are due to the mutations in alsin, senataxin (SETX), spatacsin, vesicle associated membrane protein associated protein B (VAPB). angiogenin (ANG), factor induced gene 4 (FIG 4), optineurin (OPTN) and perhaps other unknown genes [see Table
1
].
Table 1
The genetics Of fALS
Genetic subtype

Chromosomal locus

Gene

Protein

Onset

Inheritance

Clinical feature

Other diseases caused by the gene

ALS1

21q22.1

SOD1

Cu/Zn SOD-1

Adult

AD/AR

Typical ALS

NA

ALS2

2q33-2q35

Alsin

Alsin

Juv

AR

Slowly progressive, predominantly UMN signs like limb, & facial spasticity

PLS IAHSP

ALS3

18q21

Unknown

Unknown

Adu

AD

Typical ALS with limb onset especially lower limb

NA

ALS4

9q34

SETX

Senataxin

Juv

AD

Slowly progressive, distal hereditary motor neuropathy with pyramidal signs

SCAR 1 and AOA2

ALS5

15q15-21

SPG 11

Spatacsin

Juv

AR

Slowly progressive

HSP

ALS6

16p11.2

FUS

Fused in Sarcoma

Juv/Adu

AD/AR

Typical ALS

NA

ALS8

20q13.3

VAPB

VAPB

Adu

AD

Typical and atypical ALS

SMA

ALS9

14q11.2

ANG

Angiogenin

Adu

AD

Typical ALS, FTD and Parkinsonism

NA

ALS10

1p36.2

TARDBP

DNA-binding protein

Adu

AD

Typical ALS

NA

ALS11

6q21

FIG 4

Phosphoinositide-5phosphatease

Adu

AD

Rapid progressive with prominent corticospinal tract signs

CMT 4 J

ALS12

10p13

OPTN

Optineurin

Adu

AD/AR

Slowly progressive with limb onset and predominant UMN signs

Primary Open Angle Glaucoma

ALS14

9p13.3

VCP

VCP

Adu

AD

Adult onset, with or without FTD

IBMPFD

ALS15/ALSX

Xp11

UBQLN2

Ubiquilin 2

Adu/Juv

XD

UMN signs proceeding LMN signs

NA

ALS16

9p13.2-21.3

SIGMAR1

SIGMAR1

Juv

AR

Juvenile onset typical ALS

FTD

ALS-FTD1

9q21-22

unknown

unknown

Adu

AD

ALS with FTD

FTD

ALS-FTD2

9p21

C9ORF72

C9ORF72

Adu

AD

ALS with FTD

FTD

NA

2p13

DCTN1

Dynactin

Adu

AD

Distal hereditary motor neuropathy with vocal paresis

NA

Other rare-occurring ALS genes

ALS3

18q21

Unknown

Unknown

Adu

AD

Typical ALS with limb onset especially lower limb

NA

ALS7

20ptel-p13

Unknown

Unknown

Adu

AD/AR

Typical ALS

NA

NA

12q22-23

DAO

DAO

Adu

AD

Typical ALS

NA
Genetics of sALS
The incidence of sALS is more in men than in women [
1
,
2
]. The only clinical feature that distinguishes recognized sporadic from apparently hereditary ALS is older age of onset in the former [
1
–
3
]. All the clinical features reported in hereditary cases including the extrapyramidal and cerebellar signs or cognitive involvement have also been observed in sALS [
1
–
3
]. The cause of sALS in most cases is not known. Several fALS genes such as C9ORF72, TDP-43, FUS and SOD1 have also been reported in a small proportion of sALS cases [
5
]. The crosslink between genetic and environmental factors may contribute to the pathogenesis of sALS [
1
–
4
]; Table
2
. Discovering causative mechanisms in sALS will facilitate effective treatments and cures for this disease.
Table 2
The genetics Of sALS
| Gene | Protein | Chromosomal locus | Variant associated with ALS |
| --- | --- | --- | --- |
| APEX1 | Apurinic Endonuclease DNA repair enzyme 1 | 14q11.2 | SNP associations |
| ATXN2 | Ataxin-2 | 12q24.12 | Poly Q repeats |
| CHMP2B | Chromatin Modifying Protein 2B | 3p11.2 | Mutations |
| HFE | Haemochromatosis | 6p22.2 | SNP associations |
| NEFH | Neuro filament Heavy | 22q12.2 | Deletion and Insertions |
| SMN1 | Survival Motor Neuron 1 | 5q12.2-q13.3 | Abnormal copy number of genes |
| SMN2 | Survival Motor Neuron 2 | 5q12.2-q13.3 | Abnormal copy number of genes |
| PON 1,2,3 | Paraoxonase | 7q21.3 | SNP associations and mutations |
| PRPH | Peripherin | 12q13.12 | mutations |
| VEGF | Vascular Endothelial Growth Factor | 6p21 | Promoter SNP's |
| PGRN | Progranulin | 17q21.31 | Deletions |
Conclusion
There is a great heterogeneity for genetic spectrum of fALS and sALS. Several genes in ALS are known to cause many other neurodegenerative diseases, such as alsin with PLS and infantile onset ascending hereditary spastic paralysis (IAHSP), Senataxin with SCAR1 or AOA2, spatacsin with HSP, VAPB with SMA, FIG 4 with CMT type 4 J, OPTN with primary open angle glaucoma. In addition, there is a clinical and pathological overlap between ALS and FTLD. A number of autosomal-dominant genes have been described as primarily cause ALS or FTD such as VCP, and TARDBP. The presence of two neurodegenerative phenotypes within the same family and even within the same individual naturally raises question about the genetic and environmental interaction on the disease initiation.
Using linkage analysis, candidate gene studies and genome wide association studies, about 1/3 fALS and a small number of sALS have been revealed the disease-caused genes. However, despite all the progress achieved, the causes of large majority of sALS remain unknown. With the advanced genetics technology, we can expect that the number of genes involved in fALS as well as sALS will continue to increase. In addition, the utilization of transgenic animal models may provide useful tool to study the pathogenesis of ALS. Emphasis should also be made on elaborating the gene-environment interactions and crosslink in ALS, as 90% of the cases are sporadic in origin, which may help better understand the nature of the disease.
It is difficult to predict the future outcome in ALS research, but the identification of novel genes, gene modifiers and the different molecular pathways caused by the aberrant genes, might advance our research in this area. Hopefully, the use of the deep sequencing techniques, transgenic animal models, retrograde studies on available data and prospective design of future studies, may help broaden our vision in understanding the ALS genetics and pathogenesis. Strategic approach based on new ALS genes and drug trials on animal models should enable us to uncover new treatment modalities.
Abbreviations
A'D:

Alzheimer's disease
AD:

Autosomal dominant
ALS:

Amyotrophic lateral sclerosis
ANG:

Angiogenin
AOA2:

Ataxia Ocular Apraxia 2
APEX1:

Apurinic Endonuclease DNA repair enzyme 1
AR:

Autosomal recessive.ATXN2, Ataxin-2
C9ORF72:

Chromosome 9 open reading frame 72
CHMP2B:

Chromatin Modifying Protein 2B
CMT 4 J:

Charcot-Marie Tooth disease type 4 J
DAO:

D-Amino Acid Oxidase
DCTN:

Dynactin
ESCRT-III:

endosomal sorting complex required for transport III
fALS:

familial ALS
FIG 4:

Factor Induced Gene 4
FTD:

Frontal-temporal dementia
GEF:

Guanine nucleotide exchange factor
HD:

Huntington's disease
HFE:

Haemochromatosis
HSP:

Hereditary spastic paraplegia
IAHSP:

Infantile onset ascending hereditary spastic paralysis
IBMPFD:

Inclusion body myopathy with Pagets disease and fronto- temporal dementia
IGHMBP2:

Immunoglobulin mu binding protein 2 gene
LMN:

Lower motor neurons
NEFH:

Neuro filament heavy
NF-κB:

Nuclear factor-κB
OPTN:

Optineurin
PD:

Parkinson disease
PGRN:

Progranulin
PLS:

Primary lateral sclerosis
PON:

Paraoxonase
PRPH:

Peripherin
sALSM:

sporadic ALS
SCAR 1:

Autosomal Recessive Spino-cerebellar ataxia
SETX:

Senataxin
SIGMAR1:

Sigma Non Opiod Intracellular Receptor
SIP1:

SMN-interacting protein-1
SMA:

Spinal Muscular Atrophy
SMN1:

Survival Motor Neuron 1
SMN2:

Survival Motor Neuron 2
SOD1:

Superoxide Dismutase 1
SPG:

spatacsin
UBQLN2:

Ubiquilin 2 UMN, upper motor neurons
UPS:

Ubiquitin–proteasome system
VAPB:

Vesicle associated membrane protein associated protein B
VCP:

Valosin containing protein
VEGF:

Vascular endothelial growth factor.
Declarations
Acknowledgement
This paper is funded by China National Nature Science Foundation (No 81200977, 81000541 and 81171201).
Authors' Affiliations
(1)
Institute of Neurology, Jiao Tong University School of Medicine, Shanghai, China
(2)
Department of Neurology, Baylor College of Medicine, Houston, USA
Copyright
© Chen et al.; licensee BioMed Central Ltd. 2013
This article is published under license to BioMed Central Ltd. This is an Open Access article distributed under the terms of the Creative Commons Attribution License (http://creativecommons.org/licenses/by/2.0), which permits unrestricted use, distribution, and reproduction in any medium, provided the original work is properly cited.