Ryanodine receptors: physiological function and deregulation in Alzheimer disease
Molecular Neurodegeneration
2014
9:21
Received: 14 January 2014
Accepted: 18 May 2014
Published: 5 June 2014
Abstract
Perturbed Endoplasmic Reticulum (ER) calcium (Ca2+) homeostasis emerges as a central player in Alzheimer disease (AD). Accordingly, different studies have reported alterations of the expression and the function of Ryanodine Receptors (RyR) in human AD-affected brains, in cells expressing familial AD-linked mutations on the β amyloid precursor protein (βAPP) and presenilins (the catalytic core in γ-secretase complexes cleaving the βAPP, thereby generating amyloid β (Aβ) peptides), as well as in the brain of various transgenic AD mice models. Data converge to suggest that RyR expression and function alteration are associated to AD pathogenesis through the control of: i) βAPP processing and Aβ peptide production, ii) neuronal death; iii) synaptic function; and iv) memory and learning abilities. In this review, we document the network of evidences suggesting that RyR could play a complex dual "compensatory/protective versus pathogenic" role contributing to the setting of histopathological lesions and synaptic deficits that are associated with the disease stages. We also discuss the possible mechanisms underlying RyR expression and function alterations in AD. Finally, we review recent publications showing that drug-targeting blockade of RyR and genetic manipulation of RyR reduces Aβ production, stabilizes synaptic transmission, and prevents learning and memory deficits in various AD mouse models. Chemically-designed RyR "modulators" could therefore be envisioned as new therapeutic compounds able to delay or block the progression of AD.
Keywords
Ryanodine receptorCalciumAlzheimer diseaseEndoplasmic reticulumNeurodegenerationPresenilinAmyloid precursor proteinAmyloid beta
Introduction
Alzheimer Disease (AD) is the most common type of dementia characterized clinically by progressive deterioration of cognitive functions including memory, reasoning, and language [
1
]. Neuropathological hallmarks of the disease include extracellular amyloid plaques mainly composed of a set of hydrophobic peptides referred to as β-amyloid peptides (Aβ) aggregates and intracellular neurofibrillar tangles (NFT) composed of hyperphosphorylated microtubule-associated tau protein [
2
–
4
]. Aging is the major risk factor for the most common late-onset cases AD. However, a significant number of aggressive cases generally characterized by an earlier onset are inherited in an autosomal dominant manner (FAD) [
5
,
6
], and caused by mutations on the β-Amyloid precursor protein (βAPP, the precursor of the Aβ peptides) [
7
] and on presenilins (PS1 and PS2) (catalytic core components of the βAPP cleaving enzyme γ-secretase [
2
,
3
]) (Figure
1
). Interestingly, both mutations in PS1-2 and βAPP proteins either modify the nature of Aβ peptides and/or affect the levels of their production [
8
,
9
].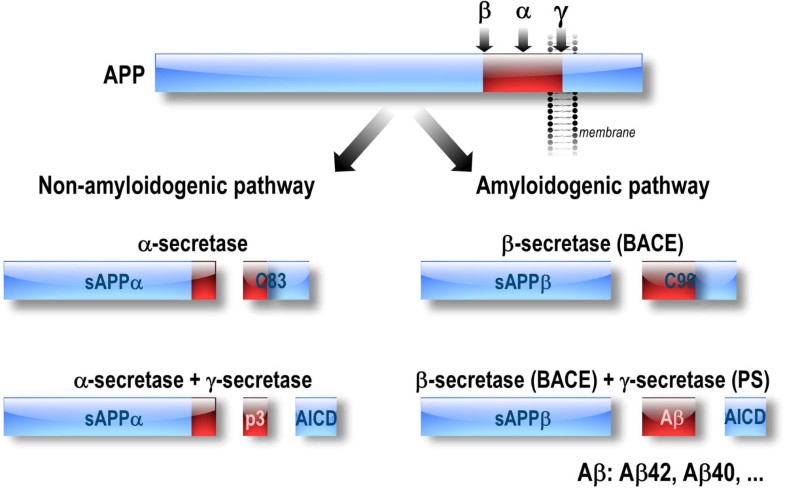 Calcium (Ca
2+
) is a ubiquitous signal transduction molecule. It plays a key role in the modulation of neuronal activity and is involved into a wide array of cellular signals regulating various critical processes, such as cell growth, differentiation, metabolism, exocytosis, and apoptosis [
10
]. In neurons, the elevation of cytosolic Ca
2+
concentration ([Ca
2+
]
i
) triggers the release of neurotransmitter at synaptic junctions and contributes to dendritic action potential, regulates the activity-dependent changes in gene expression, as well as synaptic plasticity [
11
]. Cytosolic Ca
2+
levels are kept in a very low range (≈100 nM) compared with the levels present in the extracellular space (≈2 mM) or inside intracellular stores (≈100-500 μM), where the endoplasmic reticulum (ER) represents the major dynamic Ca
2+
intracellular pool [
12
]. Neuronal Ca
2+
signaling implicates a complex interplay between Ca
2+
entry through the plasma membrane and release from the ER (Figure
2
). The ER is a continuous and highly motile network distributed throughout the neuron within dendrites and dendritic spines, axons and presynaptic nerve terminals, as well as in growth cones [
13
] and supports diverse functions within each of these cellular compartments [
14
]. Thus, in dendrites, ER Ca
2+
release is involved in modulating postsynaptic responses and synaptic plasticity [
15
]; in axon terminals, it is involved in vesicle fusion and neurotransmitter release [
16
]; in the soma, it is coupled to the activation of Ca
2+
-sensitive signaling pathways such as kinase and phosphatase activities [
11
]; and in the perinuclear space, it can trigger gene transcription [
17
]. Ca
2+
mobilization from the ER is also important in growth cone activity involved in the formation of new connections and/or the strengthening of preexisting connections that occur during learning and memory in the adult brain [
18
].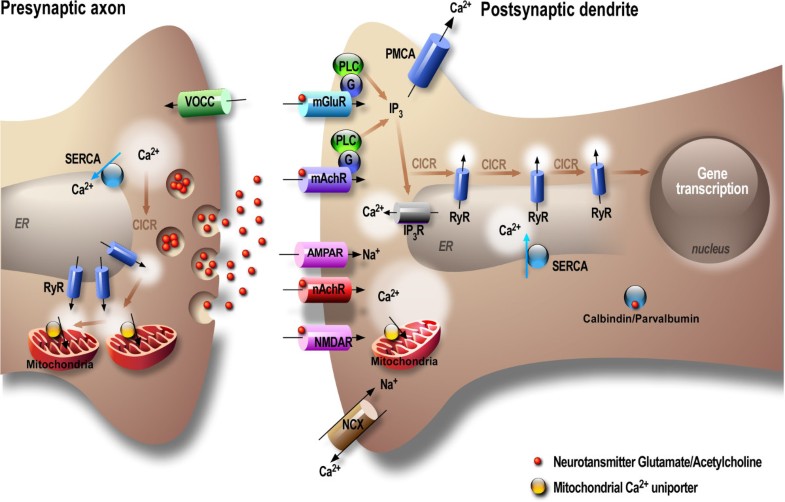 The hypothesis that Ca2+ homeostasis perturbation could play a pivotal role in cascading events to AD was introduced more than 20 years ago [19]. Data obtained from experiments on dissociated cells, brains slices, and more recently and importantly on live AD animal models confirmed this hypothesis [20–23]. Data are now converging to demonstrate the important role of ER Ca2+ deregulation in AD [24, 25]. In this review, we will specifically highlight how primary alterations of the expression and function of the ryanodine receptor (RyR) Ca2+ channels may play a key role in the setting of histopathological lesions, alteration of synaptic plasticity, and learning and memory deficits that are associated with the late stages of the disease and how these receptors may interplay with secretases expression and function and βAPP catabolites.
Conclusion
Obviously, this review reveals RyR as a key molecular determinant in "AD Ca2+ hypothesis". It also highlights the molecular mechanisms that could influence RyR-mediated Ca2+ release in AD where PS and Aβ emerge as detrminant regulators of RyR expression and function alteration.
Altered RyR levels have been described early in human AD cases, in mild cognitive impairment and in various AD models [
107
,
108
]. Accordingly, deregulation of RyR function was reported in diverse
in vitro
and
in vivo
AD study models. Data interpretation concerning some controversial results about RyR deregulation in AD must take in consideration the divergence of study systems i.e.: i) simple versus double or triple transgenic mice models; ii) primary cultures neurons and acute hippocampal slices versus neuronal derived cell lines or fibroblasts; and most importantly iii) the time course of "AD pathogenesis" development in each study model. We have also to consider that AD-associated neurodegeneration, synaptic dysfunction and cognitive decline are complex, inter-regulated and long processes where pathological and compensatory phenomenon may occur.Actually, data converge to demonstrate a complex dual role of RyR in AD acting as a potential compensatory/protective paradigm, or as a pathological hallmark amplifying the setting of histopathological lesions and synaptic deficits that are associated with the late AD stages. We provide evidences that RyR interfere with different routes leading to AD pathogenesis development through the amplification of APP metabolism and Aβ peptide production, the control of neuronal death, synaptic structure and plasticity dysfunctions and learning and memory decline (Figure
3
).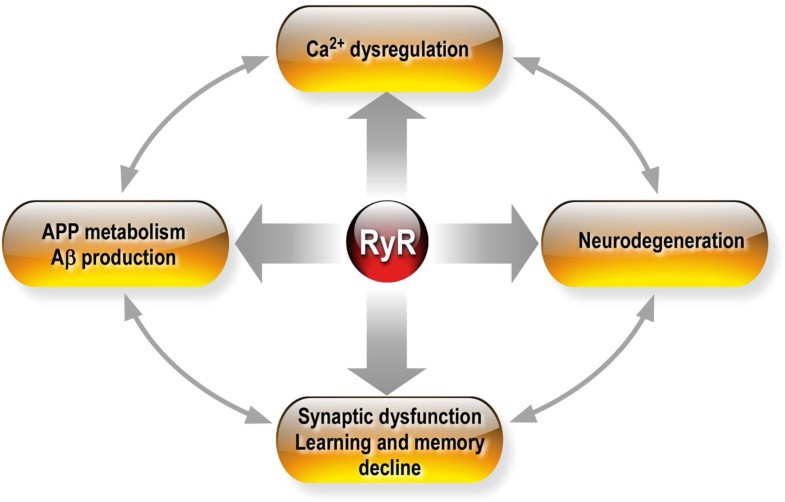 About 30 millions individuals are estimated to be affected with AD worldwide and to date no effective treatment exists to arrest disease progression. Therapeutic approaches targeting Ca2+ influx have demonstrated efficacy in animal AD models but very few have been successful in clinical trials [174, 175]. Targeting of ER Ca2+ homeostasis could be an additional therapeutic approach that merit testing. Data described above demonstrate that RyR could be envisaged as a potential new target. Therefore, we believe that it is of most interest to develop and test new RyR modulators with high specificity and affinity for RyR bioavailability as new therapeutic tools in AD.
Abbreviations
Aβ:

Amyloid β peptide
AD:

Alzheimer Disease
AMPA:

α-Amino-3-hydroxy-5-methyl-4-isoxazolepropionic acid
βAPP:

β Amyloid precursor protein
Ca2+:

Calcium
[Ca2+]cyt:

Cytosolic calcium-concentration
[Ca2+]ER:

Endoplasmic reticulum calcium-concentration
CICR:

Ca2+-induced Ca2+ release
ER:

Endoplasmic reticulum
IP3:

Inositol 1,4,5-triphosphate
IP3R:

Inositol 1,4,5-triphosphate receptor
NMDA:

N-methyl-D-aspartate
PS:

Presenilin
RYR:

Ryanodine receptor
SERCA:

Sarco-Endoplasmic reticulum Ca2+-ATPase
VGCC:

Voltage gated Ca2+ channel.
Declarations
Acknowledgments
This work was supported by INSERM, CNRS, «Fondation pour la Recherche Médicale» (DEQ20071210550) and LECMA (Ligue Européenne Contre la Maladie d'Alzheimer to MC). This work has been developed and supported through the LABEX (excellence laboratory, program investment for the future) DISTALZ (Development of Innovative Strategies for a Transdisciplinary approach to Alzheimer's disease). We acknowledge fellow support from BrightFocus foundation to D.D.P.
Authors' Affiliations
(1)
Université de Nice Sophia Antipolis, IPMC, Valbonne, France
(2)
CNRS, IPMC, Valbonne, France
(3)
Albert Einstein College of Medicine, Bronx, New York, USA
Copyright
© Del Prete et al.; licensee BioMed Central Ltd. 2014
This article is published under license to BioMed Central Ltd. This is an Open Access article distributed under the terms of the Creative Commons Attribution License (http://creativecommons.org/licenses/by/2.0), which permits unrestricted use, distribution, and reproduction in any medium, provided the original work is properly credited. The Creative Commons Public Domain Dedication waiver (http://creativecommons.org/publicdomain/zero/1.0/) applies to the data made available in this article, unless otherwise stated.