CRISPR/Cas9: a powerful genetic engineering tool for establishing large animal models of neurodegenerative diseases
Molecular Neurodegeneration
2015
10:35
Received: 8 June 2015
Accepted: 24 July 2015
Published: 4 August 2015
Abstract
Animal models are extremely valuable to help us understand the pathogenesis of neurodegenerative disorders and to find treatments for them. Since large animals are more like humans than rodents, they make good models to identify the important pathological events that may be seen in humans but not in small animals; large animals are also very important for validating effective treatments or confirming therapeutic targets. Due to the lack of embryonic stem cell lines from large animals, it has been difficult to use traditional gene targeting technology to establish large animal models of neurodegenerative diseases. Recently, CRISPR/Cas9 was used successfully to genetically modify genomes in various species. Here we discuss the use of CRISPR/Cas9 technology to establish large animal models that can more faithfully mimic human neurodegenerative diseases.
Keywords
CRISPR/Cas9Non-human primatesNeurodegenerative diseasesAnimal model
Neurodegenerative diseases — Alzheimer's disease(AD),Parkinson's disease(PD), amyotrophic lateral sclerosis (ALS), Huntington's disease (HD), and frontotemporal dementia (FTD) — are characterized by age-dependent and selective neurodegeneration. As the life expectancy of humans lengthens, there is a greater prevalence of these neurodegenerative diseases; however, the pathogenesis of most of these neurodegenerative diseases remain unclear, and we lack effective treatments for these important brain disorders.
Genetic rodent models of neurodegenerative diseases
Animal models provide us with a valuable system for the study of neurodegenerative diseases. Transgenic mouse models are particularly useful, since we have versatile genetic tools available to modify the genomes of mice to create loss- or gain-of-function models. Most neurodegenerative diseases, such as AD, PD, and ALS, are sporadic, and only a small percentage of cases (4-5 %) are caused by genetic mutations [1–5]. However, HD is a monogenic mutation disease caused by CAG repeat expansions in the IT15 gene, resulting in expanded polyglutamine repeats in huntingtin (htt) [6, 7]. Identification of the genetic mutations for different neurodegenerative diseases has enabled the generation of a variety of transgenic mouse models via expression of mutant proteins. As a result, we now have various mouse models of neurodegenerative diseases from the expression of mutant genes under different promoters or from using other transgenic approaches.
There are a number of excellent reviews covering different types of neurodegenerative diseases and their genetic mouse models [8–12]. Investigations of different mouse models of neurodegenerative diseases have revealed a common pathology shared by these diseases. First, the development of neuropathology and neurological symptoms in genetic mouse models of neurodegenerative diseases is age dependent and progressive. Second, all the mouse models show an accumulation of misfolded or aggregated proteins resulting from the expression of mutant genes. Third, despite the widespread expression of mutant proteins throughout the body and brain, neuronal function appears to be selectively or preferentially affected. All these facts indicate that mouse models of neurodegenerative diseases recapitulate important pathologic features also seen in patients with neurodegenerative diseases.
However, it seems that mouse models can not recapitulate the full range of neuropathology seen in patients with neurodegenerative diseases. Overt neurodegeneration, which is the most important pathological feature in patient brains, is absent in genetic rodent models of AD, PD, and HD. Many rodent models that express transgenic mutant proteins under the control of different promoters do not replicate overt neurodegeneration, which is likely due to their short life spans and the different aging processes of small animals. Also important are the remarkable differences in brain development between rodents and primates. For example, the mouse brain takes 21 days to fully develop, whereas the formation of primate brains requires more than 150 days [13]. The rapid development of the brain in rodents may render neuronal cells resistant to misfolded protein-mediated neurodegeneration. Another difficulty in using rodent models is how to analyze cognitive and emotional abnormalities, which are the early symptoms of most neurodegenerative diseases in humans. Differences in neuronal circuitry, anatomy, and physiology between rodent and primate brains may also account for the behavioral differences between rodent and primate models.
Conclusions
Transgenic approach and CRISPR/Cas9 can be used to generate large animal models of diseases, such as non-human primate models of neurodegenerative disease (Fig.
2
). CRISPR/Cas9 is a new genome modification tool that can efficiently and readily target any gene in the genome in germline cells and somatic cells of different species. Thus, CRISPR/Cas9 makes it possible to implement genome editing in non-human primates and large animals to generate genetic mutations that can faithfully mimic pathology in human patients. Because of the ability of CRISPR/Cas9 to disrupt two alleles, this system can make it possible for founder animals to be investigated for loss of function of the targeted gene. Off-target and mosaic mutations need to be considered when using CRISPR/Cas9. Despite great advances in genome editing, the knock-in rate via CRISPR/Cas9 is still low with current technology. However, new tools for genome editing are being developed quickly and will significantly improve the targeting rate and reduce off-target and mosaic mutation effects. The newly developed CRISPR/Ca9 technology will promote the generation of non-human primates and large animal models of neurodegenerative diseases and enhance our understanding of the pathogenesis of these important diseases.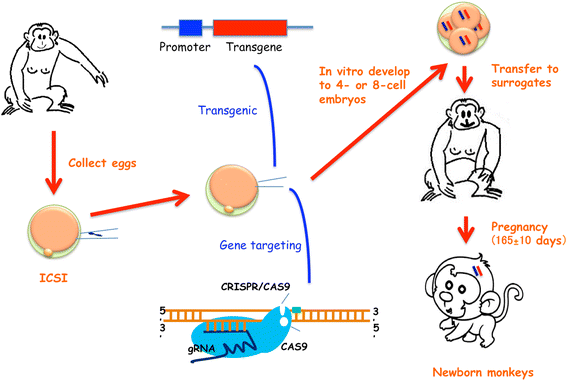 Declarations
Acknowledgments
This work was supported by the National Key Basic Research Program of China (2012CBA01304), the Strategic Priority Research Program of the Chinese Academy of Sciences (XDB13000000), and the State Key Laboratory of Molecular Developmental Biology, China. We thank the Li lab members at the Institute of Genetics and Developmental Biology, Chinese Academy of Sciences, for their input about Cas9-targeted monkeys and Cheryl Strauss for critical reading of this manuscript.
Authors' Affiliations
(1)
Institute of Genetics and Developmental Biology, Chinese Academy of Sciences, Beijing, China
(2)
Department of Human Genetics, Emory University School of Medicine, Atlanta, USA