Advances, challenges and future directions for stem cell therapy in amyotrophic lateral sclerosis
Molecular Neurodegeneration
2017
12:85
Received: 12 June 2017
Accepted: 2 November 2017
Published: 13 November 2017
Abstract
Amyotrophic lateral sclerosis (ALS) is a rapidly progressive neurodegenerative condition where loss of motor neurons within the brain and spinal cord leads to muscle atrophy, weakness, paralysis and ultimately death within 3–5 years from onset of symptoms. The specific molecular mechanisms underlying the disease pathology are not fully understood and neuroprotective treatment options are minimally effective.
In recent years, stem cell transplantation as a new therapy for ALS patients has been extensively investigated, becoming an intense and debated field of study. In several preclinical studies using the SOD1G93A mouse model of ALS, stem cells were demonstrated to be neuroprotective, effectively delayed disease onset and extended survival. Despite substantial improvements in stem cell technology and promising results in preclinical studies, several questions still remain unanswered, such as the identification of the most suitable and beneficial cell source, cell dose, route of delivery and therapeutic mechanisms. This review will cover publications in this field and comprehensively discuss advances, challenges and future direction regarding the therapeutic potential of stem cells in ALS, with a focus on mesenchymal stem cells. In summary, given their high proliferation activity, immunomodulation, multi-differentiation potential, and the capacity to secrete neuroprotective factors, adult mesenchymal stem cells represent a promising candidate for clinical translation. However, technical hurdles such as optimal dose, differentiation state, route of administration, and the underlying potential therapeutic mechanisms still need to be assessed.
Keywords
Neurodegeneration
Amyotrophic lateral sclerosis
Stem cell transplantation
Adipose derived stem cells
Background
Amyotrophic lateral sclerosis (ALS), also known as Lou Gehrig's disease, is a rapidly progressive neurodegenerative condition characterized by selective degeneration of both upper motor neurons (MNs) in the motor cortex, and lower motor neurons in the brainstem and ventral horn of the spinal cord [1]. The estimated incidence of ALS across the world is 2/100,000, with a prevalence of up to 7.4/100000 [2].
The disease typically manifests during the sixth to seventh decade of life leading to progressive muscle atrophy, weakness and paralysis. Affected individuals usually die within 2 to 5 years after diagnosis due to respiratory failure [2]. ALS is mainly sporadic in origin (SALS) but a family history of the disorder can be found in ~10% of cases. Hereditary forms of the disease (familial ALS or FALS), are predominantly autosomal dominant and rarely X-linked or recessive [2].
More than 20 mutated genes have been found to cause FALS including SOD1 [3], TARDBP [4, 5], FUS [6, 7], OPTN [8], VCP [9, 10], UBQLN2 [11], C9orf72 [12, 13] and very recently TBK1 [14, 15]. SALS and FALS are clinically indistinguishable, and since mutations in FALS genes are also present in sporadic or isolated cases of ALS, the disease can be interpreted as complex and multi-factorial [16]. Nevertheless, clinical variability such as rate of progression, site of onset (limb or bulbar) and survival within patients and even relatives who carry the same gene mutation highlight the importance of external factors which may play a role in the susceptibility and age of onset of the disease [16].
The specific molecular mechanisms behind ALS onset, development and progression are not fully understood. However, the discovery of causative inherited and de novo gene mutations, together with the generation of the SOD1G93A transgenic mouse model uncovered important pathological mechanisms in ALS [17, 18]. The SOD1G93A mice demonstrate many of the features seen in human ALS pathology and represent the most widely used in vivo model for the study of ALS. Indeed, axon retraction, selective spinal motor neuron death, loss of innervation of motor end-plates, muscular atrophy and progressive motor deficit with terminal paralysis of hind limbs are observed in this murine model [17, 18].
Several pathophysiological mechanisms have been proposed including: cytoplasmic protein mis-localization and aggregation [
19
], aberrant protein homeostasis [
20
], RNA toxicity [
13
], dysregulation of RNA processing [
21
], excitotoxicity mediated by excessive glutamate receptor activation [
22
], mitochondrial dysfunction [
23
], endoplasmic reticulum stress response and microglial activation [
24
], abnormal rearrangement of the cytoskeleton with impaired axonal transport [
25
], and oxidative stress [
26
]. Moreover, the contribution of microglial cells, oligodendrocytes and astrocytes seems to be critical for the development of the disease influencing significantly the speed of disease progression after onset [
27
–
31
]. Indeed, ALS is considered as a non-cell autonomous disease, where the start and progression of motor neuron degeneration seems to be influenced by complex interaction among different kinds of cells, together with the development of a sustained inflammatory milieu [
32
]. Figure
1
summarizes the major pathological mechanisms contributing to motor neuron injury in ALS.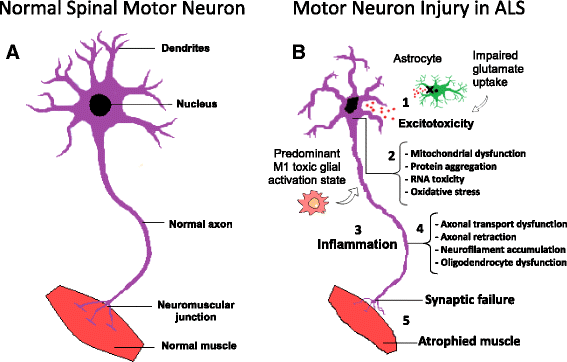 The complex heterogeneity of ALS, where several molecular mechanisms contribute to the pathology, enables various opportunities for therapeutic intervention. However, the complexity of the disease and clinical variability within patients inevitably makes the identification of a universal single drug or therapy capable of correcting the pathophysiology of ALS in its totality, very difficult. Various therapeutic strategies are being experimentally evaluated such as immunomodulation, approaches to improve mitochondrial function, induction of autophagy and anti-oxidant agents [16]. However, after over twenty years of encouraging results in preclinical studies, no efficacious treatment has been developed so far and riluzole, the only recognised neuroprotective agent in ALS, prolongs life expectancy by only approximately 3–4 months [16].
During the last decade, progress in stem cell biology has paved the way for potential cellular based therapy in neurological diseases. Albeit still at an early stage and with several issues to be solved, stem cell therapy holds great promise for the treatment of ALS. Stem cells are a population of cells which are defined by functional characteristics. They are undifferentiated cells capable of self-renewal, able to form clones in vitro and capable of differentiation into mature cell lines of various tissues.
There are several potential advantages to the use of stem cells in ALS:
1) The complexity of ALS pathology may not allow the use of a single drug or targeted treatment;
2) The capability of stem cells to differentiate into neuron-like cells and potentially replace the neuronal population lost in ALS;
3) The degeneration of existing motor neurons could be prevented by the release of neuroprotective trophic factors and the immunomodulatory properties of transplanted stem cells, thus modifying the toxic microenvironment in ALS.
This review will outline the recent progress relevant to stem cell-based therapies in general in ALS, and will focus on the therapeutic potential of mesenchymal stem cells by discussing the major technical issues, challenges and future directions.
Stem cell therapy in ALS
There are different types of stem cells which differ according to the source, clonogenic capacity, differentiation potential and availability.
Proof-of-concept for MSCs therapy in the SOD1G93A model of ALS
Several studies were performed in ALS rodent models in order to investigate the potential of either human (hMSC) or murine (mMSC) bone marrow-derived MSCs (BM-MSCs) for cell therapy in ALS. Different approaches have been tested by varying the delivery method, the amount of injected cells, the timing of intervention, and the differentiation state. Table
1
shows a summary of preclinical studies described in the literature with injection of BM-MSCs in ALS models.
Table 1
Summary of BM-MSC injections in ALS rodent model
| ALS model | | Delivery Method | Cell numbers | Age | Sacrifice to evaluate graft | Outcomes | Cell graft | Reference |
| --- | --- | --- | --- | --- | --- | --- | --- | --- |
| SOD1 G93A mice | hBM-MSC after 5 passages in culture | Intravenous | 3 × 10 6 in 0.3 ml of L-DMEM | Pre-symptomatic (8 w) | 14 days post- injection | Increased lifespan of 18 days, delayed disease onset of 14 days and reduced motor neuron loss | Very few cells in grey and white matter of lumbar spinal cord. Considerable number of cells in kidney, lung and spleen. | [61] |
| SOD1 G93A mice | hBM-MSC expressing Ngn1 after 5 passages in culture | Intravenous | 1 × 10 6 in 0.1 ml of PBS | Pre-symptomatic (8 w) or symptom onset (14–16 w) | 14 days post- injection | Increased lifespan of 3 days, delayed disease onset of 5 days and reduced motor neuron loss. | Very few cells in brainstem and spinal cord. Cells mostly found in kidney. | [58] |
| SOD1 G93A mice | mBM-MSCs expressing Luciferase expanded for 8–15 passages | Intravenous | 1 × 10 6 in 0.2 ml of PBS | Symptom onset | 24 h, 3 weeks and 4 weeks post-Injection | Increased lifespan of 17 days, delayed decline in motor performance and weight loss. | Cells detected in spinal cord and hypothalamus after 24 h and 48 h. Very few cells after 20 days. No cells after 35 days | |
| SOD1 G93A mice | hBM-MSC-derived neural-like cells from neurosphere | Cisterna Magna | 1x10 5 in 10 μl of PBS | Pre-symptomatic | 10 days post-injection | No benefits | Subarachnoid space near cisterna magna and within cerebellum. | [63] |
| SOD1 G93A mice | ALS-hBM-MSC after 3 passages in culture | Cisterna Magna | 1 x 10 6 in 10 μl of ALS-CSF | Pre-symptomatic | 7 weeks post-injection | Increased lifespan of 8 days, slowed decline in rotarod test and increased motor neuron survival | Ventricular system and subarachnoid space. Some cells into brain and spinal cord. | [64] |
| SOD1 G93A mice | hBM-MSC after 3–4 passages in culture | Cisterna Magna | 5 × 10 5 in 5 μl of PBS | Pre-symptomatic | 3 weeks post-injection | Increased lifespan of 14 days, delayed disease onset of 6 days and reduced astrogliosis | Not shown | [67] |
| SOD1 G93A rats | GFP-hBM-MSCs | Cisterna Magna | 5x10 5 in 10 μl of PBS | Symptom onset | 14 days post-injection | Increased lifespan of 14 days and reduced motor neuron loss. Preservation of PNN. | No graft | [66] |
| SOD1 G93A rats | BrdU-labelled mBM-MSC after 15 passages in culture | Cisterna Magna | 2 x 10 6 in 15 μl of Opti-MEM | Symptom onset | 35 days post-injection | Increased lifespan of 16 days, slowed disease progression, reduced motor neuron loss and inflammation. | White and grey matter of spinal cord. Substantial differentiation into astrocyte phenotype | [54] |
| SOD1 G93A mice | Bisbenzimide -hBM-MSC after 3–8 passages in culture | Cisterna lumbaris (L5-L6) | 3 × 10 5 in 5 μl of PBS | Symptom onset | 14 days post- injection | Reduced astrogliosis and microglial activation. | Lumbar, cervical and thoracic meninges. Migration into spinal cord parenchyma. | [68] |
| SOD1 G93A mice | Bisbenzimide -hBM-MSC after 3–5 passages in culture | Intraspinal (L1-L2) | 1 × 10 5 in 2 μl of PBS | Pre-symptomatic (28 w) | 10 weeks post- injection (38 w) | Reduced astrogliosis and microglial activation. Improved motor function and delayed neuron death | Close to injection site. Migration up to 2 mm toward ventral horn. | [70] |
| SOD1 G93A rats | GFP-hBM-MSC engineered to secrete GDNF | Intramuscular after focal injuries | 1.3 × 10 5 in | Pre-symptomatic (80 days) | Disease end-point | Prolonged survival, reduction in denervated motor endplates and reduced motor neuron loss | Between basal lamina and muscle fibres | [72] |
MSCs in ALS: Clinical trials
Adipose tissue: A fat tissue source for mesenchymal stem cells
Mesenchymal stem cells represent an ideal source of adult stem cells for cell therapy given their immunosuppressive nature, low potential for immunogenicity and trans-differentiation capacity. However, the collection of MSC from bone marrow is an invasive procedure which can be painful and anaesthesia is often required [83]. Moreover, the proportion of stem cells within the total cell population in bone marrow aspirate is usually about 0.001–0.002% which leads to extended culture times and increased expense in order to obtain sufficient GMP cells for clinical application [83].
Subcutaneous (buttocks and abdomen) and visceral (omentum) white adipose tissue (WAT) may represent an alternative source of stromal adult stem cells since they can be obtained by minimally invasive, simple procedures such as liposuction or lipectomy and they are relatively abundant, representing 1% of WAT cells after processing [83–85]. Several names and abbreviations have been used to refer to adipose-derived mesenchymal stem cells. Here, the abbreviation ADSC will be used.
In the literature, the method for isolation of ADSCs from human fat is performed following almost always the same protocol described by Zuk and colleagues [
83
]. An illustration of the ADSC isolation method is showed in Fig.
2
.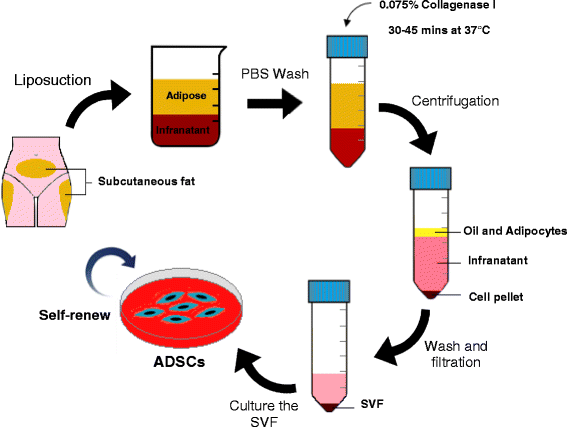 Briefly, fresh lipoaspirate is washed extensively to eliminate red blood cells and contaminant debris, followed by extracellular matrix digestion with collagenase. After enzymatic neutralization, the homogenate is centrifuged to obtain the stromal-vascular fraction (SVF) pellet. The pellet is then suspended in culture medium and left overnight in a flask in the incubator at 37 °C with 5% CO2. After incubation, cells are washed with phosphate buffered saline (PBS) to remove residual non-adherent cells. The culture medium usually consists of Dulbecco's modified eagle medium (DMEM) supplemented with foetal bovine serum (FBS), penicillin and streptomycin.
In spite of some differences in the expression of cluster of differentiation (CD) markers such as CD49d and CD106, ADSC cells are phenotypically similar to BM-MSC cells, showing fibroblast-like morphology, characteristic expression of mesenchymal stem cell markers (CD44+, CD105+, CD73+, CD90+, CD29+, CD45−, CD34−, CD14− CD19−), lack of major histocompatibility complex class II (MHC-II) and the capacity to differentiate into osteoblasts, chondrocytes and adipocytes in specific culture conditions [83]. Thus, hADSCs comply with all the minimum criteria for the characterization of hMSCs, established in 2005, by the International Society for Cellular Therapy (ISCT) [86].
Like MSCs obtained from bone marrow aspirates, hADSCs secrete several soluble factors such as BDNF, NGF, hepatocyte growth factor (HGF), vascular endothelial growth factor (VEGF), insulin-like growth factor-1 (IGF-1) and basic fibroblast growth factor (bFGF) that may contribute to neurotropism, neuroprotection and tissue regeneration by paracrine mechanisms [87].
Even though the literature appears controversial, there is evidence supporting the potential of ADSCs to trans-differentiate into progenitors or mature cells of ectodermal origin, therefore opening the way to a future investigation of the feasibility of cell replacement in neurodegenerative disorders (Safford et al., 2002; Krampera et al., 2007; Ahmadi et al., 2012; Feng et al., 2014).
Conclusions
During the last decade, the great advances achieved in regenerative medicine have created an unprecedented enthusiasm and new hope for amelioration of the devastating and until now incurable disease that is ALS. The initial exciting idea of replacing lost of motor neurons, with MSCs is unlikely to be achieved, although other strategies may provide some promise for stem cell derived motor neuron replacement [138]. Indeed, transplanted cells should differentiate and integrate with the host spinal motor circuits within the toxic and non-permissive environment that characterizes ALS. However, the neuroprotective and immunomodulatory potential of MSCSs could match perfectly with the multifactorial nature of ALS.
Among different types of stem cells, MSCs represent a promising candidate for clinical application. However, several technical issues need to be addressed including: route of administration, optimal dose, and differentiation state and neuroprotective mechanisms of transplanted cells. In addition, in the majority of pre-clinical experiments stem cell injection was performed before disease onset. This is an important limitation for translation into the clinic where the diagnosis takes several months and early markers of disease are lacking [139]. Another limitation is the exclusive use of the SOD1G93A model, which may reflect the pathological features of only a very small proportion of patients. Although these mice represent a robust model of ALS, only a small proportion of ALS cases are caused by SOD1 mutations [140]. Thus, the use of other ALS models such those driven by mutant TDP-43 and C9ORF72 expansions would be of interest [141].
Also, despite the excellent utility of the SOD1G93A mice in revealing pathological ALS features, translation of promising therapies from this model has failed in human clinical trials [142]. Apart from considerable differences between rodents and humans, the answer to this problem could be attributed to the existence of a high rate of intra- and inter-laboratory variability [142]. Such variability could be improved by a more meticulous preclinical design, use of defined inbred mouse strains, transgene copy number analysis and trying to standardize preclinical investigation methods [142, 143].
In general, the presence of injected stem cells within the host nervous system of treated rodents was evaluated only a few days or weeks post-transplantation. Thus, the design of experiments looking at the long-term survival and integration of cells is necessary.
Evaluation of the presence of injected cells in the host has been carried out by the exclusive use of immunohistochemistry. Adopting advanced microscopy techniques such as confocal and two-photon microscopy would be of great interest to confirm stem cell engraftment, which could also allow tracking in vivo the fate of transplanted cells [144, 145].
In addition, rate of proliferation, stemness properties, longevity and differentiation capacity of MSCs declines considerably with time when culturing cells as monolayers [146]. The advent of 3D culture systems, along with enormous progress in the fabrication of biomaterials must be considered. When maintained in 3D culture systems such as hanging drops, low-adhesion plates, porous scaffolds or hydrogels, hMSCs showed increased proliferation and migration capacity, enhanced colony-forming efficiency, higher expression of stem cell markers, greater neuronal differentiation ability and greater cellular engraftment after transplantation in animals [146–148].
Thus, the regenerative potential of stem cells could be considerably improved by adopting 3D culture methods. Transplantation of bio-scaffolds or encapsulating MSCs to sustain favorable conditions for stem cell survival, growth, migration and maturation is showing promising results in experimental models of spinal cord injury, traumatic brain injury and nerve regeneration, and must be considered in ALS models where the presence of a hostile microenvironment is one of the main factors that negatively affects stem cell engraftment and therefore therapeutic potential [147, 149, 150].
The optimal maturation level for the transplantation of stem cells to obtain the greatest therapeutic benefit is also unclear. If undifferentiated cells may represent the best way to obtain immunomodulation and trophic factor production, induced neural progenitors may overcome the possibility of tumour formation, along with the possibility of in vivo maturation and integration into existing neuronal circuits.
A combination strategy could be interesting, where intravenous infusion of immature cells may generate permissive environmental conditions for the successive implantation of neuronal committed cells within the CSF. This would require an in-depth study of the maturation process of MSCs into neurons, trying to understand, optimize and standardize differentiation protocols that promote the generation of stable precursors.
Last but not least, although autologous transplantation can reduce the probability of immune rejection, it has been reported that patient-derived MSCs may have impaired or reduced therapeutic effects [151, 152]. Other evidence indicates no functional alteration or accelerated cellular senescence in BM-MSCs derived from sporadic cases of ALS [153]. Moreover, it was shown that there was the possibility to functionally restore defective ALS-derived MSCs by correcting alterations in DNA methylation [153, 154]. However, the identification of MSC biological markers predictive of a positive/negative therapeutic response in ALS patients would be of great value [82]. In relation to the use of autologous MSCs in patients carrying ALS causative genetic mutations, stem cells could be genetically corrected by adopting CRISPR-Cas9-mediated gene editing technology [155].
In conclusion, several strategies have been tested in the SOD1G93A mouse model, but with different hurdles. All the discussed parameters should be reconsidered and optimized before the translation of stem cell therapy from mice to humans in order to avoid undesirable delays or therapy failure as has happened for most of the promising results derived from SOD1G93A transgenic mouse models, with failure of translation into clinical benefits for ALS patients.
Abbreviations
ADSC:

Adipose derived stem cells
ALS:

Amyotrophic lateral sclerosis
BBB:

Blood brain barrier
BDNF:

Brain derived neurotrophicfFactor
bFGF:

basic fibroblast growth factor
BM:

Bone marrow
BMNC:

Bone marrow mononuclear cells
CD:

Cluster of differentiation
CNS:

Central nervous system
CNTF:

Ciliary neurotrophic factor
CSF:

Cerebrospinal fluid
DCX:

Doublecortin
DMEM:

Dulbecco's modified eagle medium
FALS:

Familial amyotrophic lateral sclerosis
FBS:

Foetal bovine serum
FUS:

Fused in sarcoma protein
GDNF:

Glial derived neurotrophic factor
GFAP:

Glial fibrillary acidic protein
GFP:

Green fluorescent protein
GLT1:

Glutamate re-uptake transporter 1
GMP:

Good manufacturing practice
hESC:

human embryonic stem cells
HGF:

Hepatocyte growth factor
ICV:

Intracerebroventricular
IGF-I:

Insulin-like growth factor-1
IHC:

Immunohistochemistry
IL:

Interleukin
iPSC:

induced pluripotent stem cells
ISCT:

International Society for Cellular Therapy
IV:

Intravenous
MAO-B:

Monoamine oxidase B
MCP-1:

Monocyte chemoattractant protein 1
MHC-II:

Major histocompatibility complex class II
MND:

Motor neuron disease
MNLCs:

Motor neuron-like cells
MNPs:

Motor neuron progenitors
MNs:

Motor neurons
MS:

Multiple sclerosis
MSCs:

Mesenchymal stem cells
NGF:

Nerve growth factor
Ngn1:

Neurogenin1
NPs:

Neural progenitors
NSC:

Neural stem cells
NT-3:

Neurotrophin 3
OPTN:

Optineurin
PBMC:

Peripheral blood mononuclear cell
PBS:

Phosphate buffered saline
PNN:

Perineural net
RA:

Retinoic acid
RCT:

Randomized controlled trial
SALS:

Sporadic amyotrophic lateral sclerosis
SCI:

Spinal cord injury
Shh:

Sonic hedgehog
SMA:

Spinal muscular atrophy
SOD1:

Superoxide dismutase 1
SVF:

Stromal vascular fraction
TARDBP:

TAR DNA-binding protein 43
TGFα:

Transforming growth factor-alpha
TGFβ:

Transforming growth factor-beta
VCP:

Valosin containing protein
VEGF:

Vascular endothelial growth factor
WAT:

White adipose tissue
WB:

Western blotting
WT:

Wild-type
Declarations
Acknowledgements
University of Sheffield-Tongji University Joint Doctoral Researcher Programme (YC, PJS, RM), the NIHR Sheffield Biomedical Research Centre for Translational Neuroscience (PJS). Medical Research Council (MRC) Award Number: MR/M010864/1 (KN). Medical Research Council (MRC) award Number: MR/M010864/1 (PJS). MND Association Award Number: 983-797 (RJM).
Funding
This work was funded by a University of Sheffield-Tongji University collaborative PhD scholarship awarded to YC. PJS is an NIHR Senior Investigator and this work was also supported by the NIHR Sheffield Biomedical Research Centre for Translational Neuroscience.
Availability of data and materials
Not applicable.
Authors' contributions
All authors assisted in the planning and conception of the review article, YC drafted the manuscript and figures, RJM, PJS, KN and XJ edited the manuscript. All authors read and approved the final manuscript.
Ethics approval and consent to participate
Not applicable.
Consent for publication
Not applicable.
Competing interests
The authors declare that they have no competing interests.
Publisher's Note
Springer Nature remains neutral with regard to jurisdictional claims in published maps and institutional affiliations.
Open AccessThis article is distributed under the terms of the Creative Commons Attribution 4.0 International License (http://creativecommons.org/licenses/by/4.0/), which permits unrestricted use, distribution, and reproduction in any medium, provided you give appropriate credit to the original author(s) and the source, provide a link to the Creative Commons license, and indicate if changes were made. The Creative Commons Public Domain Dedication waiver (http://creativecommons.org/publicdomain/zero/1.0/) applies to the data made available in this article, unless otherwise stated.
Authors' Affiliations
(1)
Sheffield Institute for Translational Neuroscience (SITraN), Department of Neuroscience, Faculty of Medicine, Dentistry and Health, University of Sheffield, Sheffield, UK
(2)
Tongji University School of Medicine, Shanghai, China