Research article

Open Access
Fibril specific, conformation dependent antibodies recognize a generic epitope common to amyloid fibrils and fibrillar oligomers that is absent in prefibrillar oligomers
Molecular Neurodegeneration
2007
2:18
Received: 06 August 2007
Accepted: 26 September 2007
Published: 26 September 2007
Abstract
Background
Amyloid-related degenerative diseases are associated with the accumulation of misfolded proteins as amyloid fibrils in tissue. In Alzheimer disease (AD), amyloid accumulates in several distinct types of insoluble plaque deposits, intracellular Aβ and as soluble oligomers and the relationships between these deposits and their pathological significance remains unclear. Conformation dependent antibodies have been reported that specifically recognize distinct assembly states of amyloids, including prefibrillar oligomers and fibrils.
Results
We immunized rabbits with a morphologically homogeneous population of Aβ42 fibrils. The resulting immune serum (OC) specifically recognizes fibrils, but not random coil monomer or prefibrillar oligomers, indicating fibrils display a distinct conformation dependent epitope that is absent in prefibrillar oligomers. The fibril epitope is also displayed by fibrils of other types of amyloids, indicating that the epitope is a generic feature of the polypeptide backbone. The fibril specific antibody also recognizes 100,000 × G soluble fibrillar oligomers ranging in size from dimer to greater than 250 kDa on western blots. The fibrillar oligomers recognized by OC are immunologically distinct from prefibrillar oligomers recognized by A11, even though their sizes overlap broadly, indicating that size is not a reliable indicator of oligomer conformation. The immune response to prefibrillar oligomers and fibrils is not sequence specific and antisera of the same specificity are produced in response to immunization with islet amyloid polypeptide prefibrillar oligomer mimics and fibrils. The fibril specific antibodies stain all types of amyloid deposits in human AD brain. Diffuse amyloid deposits stain intensely with anti-fibril antibody although they are thioflavin S negative, suggesting that they are indeed fibrillar in conformation. OC also stains islet amyloid deposits in transgenic mouse models of type II diabetes, demonstrating its generic specificity for amyloid fibrils.
Conclusion
Since the fibril specific antibodies are conformation dependent, sequence-independent, and recognize epitopes that are distinct from those present in prefibrillar oligomers, they may have broad utility for detecting and characterizing the accumulation of amyloid fibrils and fibrillar type oligomers in degenerative diseases.
Keywords
Amyloid DepositAmyloid FibrilIslet Amyloid PolypeptideDiffuse PlaqueGeneric Epitope
Background
The accumulation of misfolded proteins and peptides as amyloid deposits is a characteristic feature of many degenerative diseases, such as Alzheimer disease (AD), although the pathological significance of these deposits remains unclear. In AD, several different types of deposits containing the amyloid Aβ peptide have been recognized, including dense cored, neuritic, diffuse and "cotton wool" plaques [1–3]. Sites of intracellular accumulation of Aβ have also been identified [4–8]. The relationships and pathological significance of these accumulated deposits remain a matter of debate. The pathological significance of the fibrillar plaques is a matter of debate, since cognitively normal aged individuals frequently have large amounts of fibrillar deposits [9, 10] and soluble oligomeric forms of Aβ correlate better with dementia [11, 12]. It has also been suggested that the large insoluble amyloid deposits may serve as reservoirs that release toxic soluble oligomers [13]. It is widely accepted that diffuse amyloid deposits are "non-fibrillar" based on a lack of binding of fibril-specific dyes, like Congo red (CR) and ThioS. Senile plaques and "cored" plaques stain with CR and ThioS, while most diffuse plaques are negative [9]. Thioflavin dyes have served as the basis for the development of contrast agents to image amyloid accumulation in vivo in humans, although these dyes do not label diffuse plaques in human AD brain nor the amyloid deposits that accumulate in transgenic mouse models of AD.
Plaques have also been characterized immunologically. Monoclonal antibodies specific for the carboxyl terminus of Aβ indicate that diffuse plaques primarily contain Aβn-42, while dense core and neuritic plaques contain both Aβn-40 and Aβn-42 [14, 15]. More recently, conformation-dependent antibodies have been reported that recognize a generic epitope that is specific to many types of amyloid fibrils and not soluble monomer regardless of their sequences [16, 17]. The WO1 antibody has been reported to bind to a generic fibril epitope [17], but this antibody also recognizes morphologically distinct "protofibrils" [18]. Whether this epitope recognized by WO1 is specific to the fibrillar state or is also displayed on prefibrillar aggregates or oligomers has yet to be determined. Other conformation dependent antibodies (A11) have been reported that specifically recognize a generic epitope common to prefibrillar oligomers and not fibrils, monomers or natively folded precursor proteins [19]. These oligomers are widely believed to represent a primary toxic or pathological species and are called "prefibrillar" because they kinetically precede fibril formation and disappear after fibrils have formed [20, 21]. While A11 stains small focal or punctuate deposits in AD tissue, it does not stain diffuse plaques or other plaque types, indicating that diffuse deposits are not accumulations of prefibrillar oligomers.
Here we report a conformation dependent, fibril specific polyclonal antisera that recognizes a generic epitope that is associated with amyloid fibrils and soluble fibrillar oligomers that is distinct from prefibrillar oligomers. Like other conformation dependent antibodies, it does not recognize natively folded APP or monomer. This antibody may have considerable utility for localizing and quantitating fibril related aggregates in tissues and biological fluids.
Discussion
Amyloidogenic proteins and peptides can adopt a number of distinct assembly states and a key issue is which of these assembly states are more closely associated with pathogenesis. Conformation dependent antibodies that specifically recognize these distinct assembly states offer the potential of providing insight into which distinct assembly states accumulate in disease and are pathologically significant. We have prepared polyclonal antisera that recognize a generic epitope specific to amyloid fibrils. These antibodies are similar to other fibril specific antibodies that have been previously reported [16, 17]. One of the major insights we have gained from examining the properties of OC polyclonal antiserum and comparing it to A11, is that there are at least two distinct types of amyloid oligomers: prefibrillar oligomers and fibrillar oligomers. The idea of fibrillar oligomers may seem counter intuitive because fibrils are often thought of as large insoluble structures, but the fact that OC recognizes small soluble oligomers in the range of dimers to 250 kDa that are not recognized by A11 indicates that these oligomeric species are conformationally related to fibrils and conformationally distinct from prefibrillar oligomers. It is not surprising that small fibrillar oligomers or pieces of fibrils exist, because it is known that fibril assembly is a nucleation-dependent process and these soluble fibrillar oligomers may represent fibril nuclei or seeds.
The fact that the epitopes recognized by OC and A11 are generic and mutually exclusive indicate that the conformational difference between fibrils and prefibrillar oligomers is a widespread and fundamental distinction for many different types of amyloids. This fundamental conformational difference forms an ideal and rational basis for the nomenclature of amyloid assembly states. We propose that oligomers can be classified as at least two distinct types: prefibrillar oligomers and fibrillar oligomers (Fig.
9
). Prefibrillar oligomers are defined as an assembly state that can ultimately convert to a fibrillar state by concerted or "en bloc" conformational conversion, while fibrillar oligomers grow predominantly by addition of monomer to the ends without undergoing further conformational change. This elongation would involve a conformation conversion at the level of the monomer. The distinction between a fibrillar oligomer and a fibril is on the basis of size and it seems likely that there is a continuous distribution of potential sizes that vary by a single monomeric subunit. There is no obvious demarcation between fibrillar oligomers and fibrils, suggesting that the distinction is necessarily arbitrary and operational. This does not imply that size is not important pathologically as small oligomers may have more diffusional freedom than large fibrils and therefore may be able to move more freely and bind reversibly to cellular targets.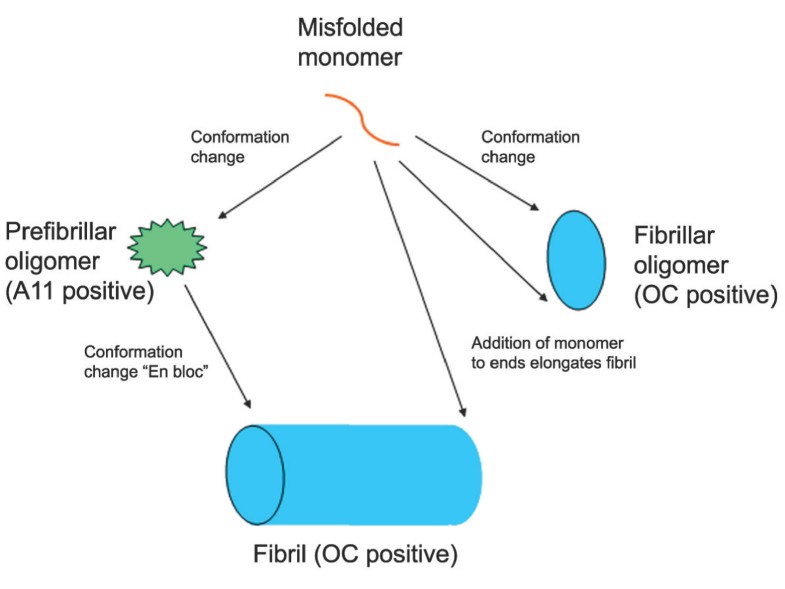 The size of amyloid oligomers is not a reliable indicator of their conformation or aggregation state. Prefibrillar oligomers and fibrillar oligomers display broadly overlapping size distributions, yet they are conformationally distinct by virtue of the fact that they display mutually exclusive epitopes. Since soluble amyloid oligomers are widely believed to represent the primary pathological species rather than insoluble amyloid fibrils, this raises the question of which type of oligomer is important for pathogenesis and whether prefibrillar and fibrillar oligomers have distinct pathogenic mechanisms. Prefibrillar oligomers have been reported in human AD brain [19]. It is not yet clear whether fibrillar oligomer exist in human AD brain and whether this correlates with pathology, but this is the subject of further studies. Our results also suggest that a lack of staining with thioflavin dyes and Congo red may not be a reliable indicator of non-fibrillar conformation. These dyes do not stain diffuse amyloid deposits although all amyloid deposits including diffuse plaques stain with OC, indicating that they display the fibril-specific epitope. It has been suggested that insoluble amyloid plaques may represent a reservoir for soluble oligomer production. If so, our data would suggest that this would be a source of fibrillar oligomers rather than prefibrillar oligomers, since all types of amyloid plaque deposits stain intensely with OC.
Recent evidence indicates that prefibrillar oligomers are not an obligate intermediate for amyloid fibril formation and that they represent alternative aggregation pathways and in vitro. Fibrils form under conditions that do not support the formation of prefibrillar oligomers and drugs that inhibit prefibrillar oligomer formation have no effect on fibril formation or they actually promote fibril formation [22, 26]. If prefibrillar oligomers are not obligate intermediates for fibril formation in vivo, this would suggest that amyloid fibrils could deposit without forming prefibrillar oligomers. If prefibrillar oligomers are the primary toxic species, the direct formation of fibrils in the absence of prefibrillar oligomers could explain why some cognitively normal individuals have large amounts of insoluble amyloid fibrils.
We also investigated whether the conformation dependent immune response that gives rise to antibodies that recognize generic epitopes associated with distinct aggregations states is independent of the peptide sequence used as an antigen. We immunized rabbits with oligomer mimics and amyloid fibrils derived from the islet amyloid polypeptide and compared the specificity of the immune response to antibodies elicited in response to Aβ derived oligomer mimics and amyloid fibrils. We found that the resulting immune sera are functionally equivalent with the islet oligomer mimic antiserum, I11, recognizing the same prefibrillar oligomers as A11 and the islet fibril antibodies, LOC recognizing the same fibrillar epitope as OC. This suggests that the immune response to amyloid aggregates is predominantly conformation dependent, rather than sequence specific. This observation may have some practical utility. The staining of Aβ amyloid plaques with LOC rules out the possibility that the plaque staining is due to residual Aβ sequence specific immunoreactivity. It also suggests the possibility that oligomers and fibrils may be specifically targeted by vaccination with non-human amyloid sequences that could give rise to a therapeutic immune response while avoiding potential autoimmune complications.
Conclusion
Fibrils and fibrillar amyloid oligomers display a unique generic epitope that is distinct from the generic epitope displayed by prefibrillar oligomers. Conformation dependent antibodies specific for these generic epitopes may have broad utility for specifically targeting these distinct aggregation states in amyloid related degenerative diseases.
Declarations
Acknowledgements
Supported by NIH NS 31230, NIH/NIA ADRC P50 AG16573 and NIH/NIA P01 AG000538, the Cure Alzheimer's Fund and the Larry L. Hillblom Foundation.
Authors' Affiliations
(1)
Department of Molecular Biology and Biochemistry, University of California, Irvine, USA
(2)
Department of Neurology and Institute for Brain Aging & Dementia, University of California, Irvine, USA
(3)
Larry Hillblom Islet Research Center, David Geffen School of Medicine, University of California, Los Angeles, USA
Copyright
© Kayed et al; licensee BioMed Central Ltd. 2007
This article is published under license to BioMed Central Ltd. This is an Open Access article distributed under the terms of the Creative Commons Attribution License (http://creativecommons.org/licenses/by/2.0), which permits unrestricted use, distribution, and reproduction in any medium, provided the original work is properly cited.