Research article

Open Access
Loss of Munc18-1 long splice variant in GABAergic terminals is associated with cognitive decline and increased risk of dementia in a community sample
Molecular Neurodegeneration
2015
10:65
Received: 28 July 2015
Accepted: 24 November 2015
Published: 2 December 2015
Abstract
Background
Presynaptic terminals contribute to cognitive reserve, balancing the effects of age-related pathologies on cognitive function in the elderly. The presynaptic protein Munc18-1, alternatively spliced into long (M18L) or short (M18S) isoforms, is a critical modulator of neurotransmission. While subtle alterations in Munc18-1 have been shown to cause severe neuropsychiatric disorders with cognitive impairment, little information is known regarding the specific roles of Munc18-1 splice variants. We first investigated functional and anatomical features evidencing the divergent roles of M18L and M18S, and then evaluated their contribution to the full range of age-related cognitive impairment in the dorsolateral prefrontal cortex of a large sample of participants from a community-based aging study, including subjects with no-(NCI, n = 90), or mild-(MCI, n = 86) cognitive impairment, or with clinical dementia (n = 132). Finally, we used APP23 mutant mice to study the association between M18L/S and the time-dependent accumulation of common Alzheimer's disease pathology.
Results
Using isoform-specific antibodies, M18L was localized to the synaptosomal fraction, with a distribution matching lipid raft microdomains. M18S was found widely across cytosolic and synaptosomal compartments. Immunocytochemical studies identified M18L in perisomatic, GABAergic terminals, while M18S was broadly distributed in GABAergic and glutamatergic terminals. Using regression models taking into account multiple age-related pathologies, age, education and sex, global cognitive function was associated with the level of M18L (p = 0.006) but not M18S (p = 0.88). Mean M18L in dementia cases was 51 % lower than in NCI cases (p < 0.001), and each unit of M18L was associated with a lower likelihood of dementia (odds ratio = 0.68, 95 % confidence interval = 0.50–0.90, p = 0.008). In contrast, M18S balanced across clinical and pathologically diagnosed groups. M18L loss may not be caused by age-related amyloid pathology, since APP23 mice (12- and 22-months of age) had unchanged cortical levels of M18L/S compared with wild-type animals.
Conclusions
M18L was localized to presynaptic inhibitory terminals, and was associated with cognitive function and protection from dementia in an elderly, community-based cohort. Lower M18L in inhibitory presynaptic terminals may be an early, independent contributor to cognitive decline.
Keywords
Syntaxin-binding proteinSNAREProtein-protein interactionsVGATVGLUT1Human postmortem brainAging studyMild cognitive impairmentSynaptic pathologyAlzheimer's disease
Background
Common age-related neuropathologies, including Alzheimer's disease pathology (i.e. neuritic plaques and neurofibrillary tangles), cerebral infarcts, and Lewy bodies, accumulate in the human brain across the lifetime. The susceptibility of cognitive function to decline as growing amounts of neuropathology develop in the forebrain varies greatly between individuals, raising the concept of cognitive reserve [1–3]. Large community-based studies have been designed, at least in part, to investigate the biological substrates of cognitive reserve [4–7]. The initial model that people with mentally enriched lives may exhibit greater resistance against brain-damaging diseases [2] is not yet supported with clear neurochemical correlates. Synaptic pathology is common in aging, being first reported as a deficit of presynaptic markers [8–11]. In some studies, synaptic pathology showed stronger association with cognitive decline than other common age-related pathologies [12], suggesting that intact, functional synapses may contribute to cognitive reserve.
In this context, we previously reported that better cognitive performance, a reduced odds of dementia, and slower rate of cognitive decline over multiple years prior to death were associated with greater densities of specific presynaptic proteins, and enhanced presynaptic protein-protein interactions (PPIs) [13, 14]. Interestingly, these PPIs involved the associations between syntaxin-1, synaptosomal-associated protein-25 (SNAP-25), and vesicle-associated membrane protein (VAMP, or synaptobrevin), which together assemble the machinery facilitating vesicle trafficking and neurotransmitter release, known as the soluble N-ethylmaleimide-sensitive factor attachment protein receptor (SNARE) [15]. However, other frequent targets of synaptic pathology, such as synaptophysin, were not associated with cognitive function or Alzheimer's disease pathology in the same community-based cohort study, which included subjects with the full range of cognition from normality, to mild cognitive impairment, to dementia. Of note, many of the studies related to synaptic pathology were based on subpopulations of hospital- or clinic-based patients displaying moderate-to-severe degrees of dementia, not necessarily representative of the spectrum of cognitive decline in aging [16]. Previous analyses in mixed postmortem brain series found biphasic alterations of brain presynaptic markers (including synaptophysin) across age-related cognitive decline and/or Alzheimer's disease progression, with upregulated densities at intermediate stages and reduced levels in more severe cases [17–19]. Together, these observations suggest that an initial failure of presynaptic terminals to maintain synaptic function (reflected by SNARE disruption) might be compensated by upregulating the expression of certain presynaptic genes; further accumulation of neuropathologies may result in the observed synaptic degeneration at relatively more severe stages. The mechanisms underlying initial SNARE and presynaptic dysfunction could be directly linked to age-related cognitive impairment and progression to dementia. Consistent with these observations, murine models with impaired SNARE PPIs undergo related behavioral and physiological neurodegenerative syndromes [20, 21].
Although the biochemical and physiological nature of neurosecretion is well established [22–24], the association between SNARE dysregulation and the pathophysiology of aging-related diseases is unclear. Among the regulators potentially involved in SNARE dysfunction, mammal unc-18-1 (Munc18-1 or n-Sec1; herein M18) is a strong candidate. First identified by random mutagenesis screening for uncoordinated phenotypes in the worm Caenorhabditis elegans, M18 caught the attention of many research teams when described as a 'syntaxin-binding protein' (coining the M18 coding gene as STXBP1) twenty years later [25–27]. While still controversial, M18 is believed to have multiple activities during SNARE-regulated exocytosis, which may include trafficking and chaperoning syntaxin-1, transition from cis-to-trans SNARE conformations, and/or docking the presynaptic vesicle [23, 28, 29]. The observation that STXBP1 null mice lack neocortical synaptic activity [30] highlights the irreplaceable role of M18 for neurosecretion. Interestingly, M18 knockout mice also exhibit massive neuronal apoptosis and widespread neurodegeneration, and consequently do not survive after birth [30].
In mammals, the
STXBP1
gene is alternatively spliced to yield either a long (M18L) or a short (M18S) variant [
31
,
32
], also called isoforms
a
and
b
, respectively. Processing of the final exon in the
STXBP1
primary transcript may include (M18L) or skip (M18S) a sequence of 110 bp containing a stop codon [
32
], resulting in two different C-terminal amino acid sequences for M18L/S (see Fig.
1a
). To our knowledge, specific regulatory mechanisms of
STXBP1
gene splicing have not been described. Although intensive research focuses on M18 activities in regulated exocytosis, the potentially divergent roles of the M18 variants are relatively neglected, assuming no substantial differences between them [
32
]. However, recent observations indicate that M18 variants may not have overlapping functions. Transgenic mice expressing a fluorophore-tagged, functional M18S were generated using a replacement strategy that erased the M18L splice variant [
33
,
34
]. These animals show severe physical and behavioral deficits, and die prematurely a few weeks after birth. Conversely, mice overexpressing M18L in both glutamatergic and GABAergic neurons display aspects of a schizophrenia-like phenotype [
35
], compatible with alterations observed in human postmortem studies [
36
–
38
]. At a cellular level, transfection of either M18L or M18S to excitatory neuronal cell cultures from the hippocampus of M18 knockouts succeeded to a similar extent in rescuing basal synaptic activity [
39
]. However, M18S appeared to support high frequency stimulation more efficiently than the long variant, suggesting different roles in short-term plasticity. Altogether, these findings indicate that the functions of M18 splice variants may not be interchangeable, and the multiplicity of activities attributed to M18 may represent a composite of M18L + S.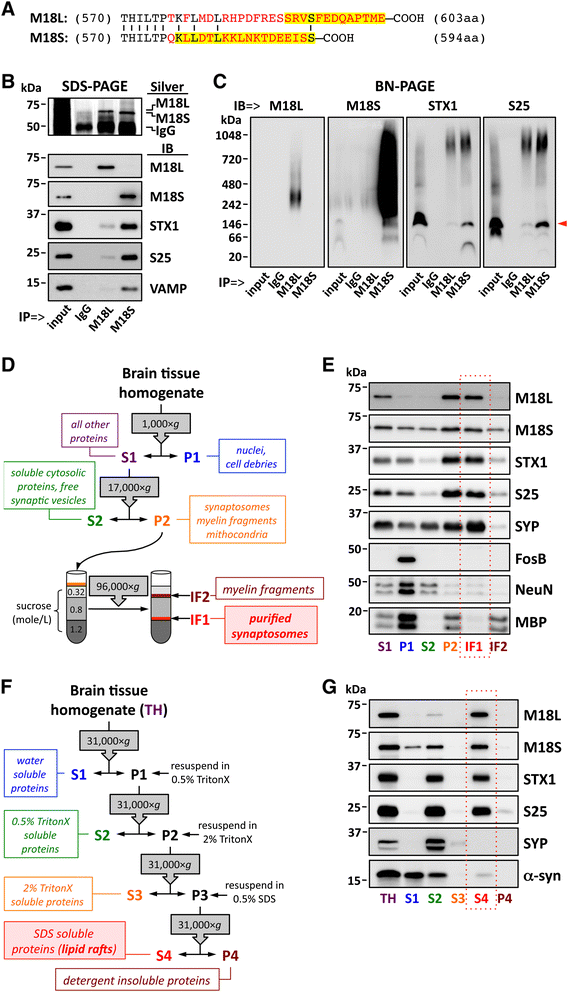 It has been reported that de novo mutations affecting STXBP1 gene can cause Ohtahara syndrome in humans [40–45], a devastating neurological disease characterized by early onset of epileptic seizures and a profound intellectual disability. Most STXBP1 mutations associated with Ohtahara syndrome impair M18–syntaxin-1 interaction (and thereby proper SNARE assembly), compromising cellular availability of functional M18 (haploinsufficiency) [41, 43]. Conversely, other mutations are predicted to confer aberrant alternative splicing of M18 RNA [44]. In addition, some STXBP1 de novo mutations were associated with similar mental retardation without epileptic seizures [42].
In the context of aging, two previous studies addressed alterations in M18 protein levels in Alzheimer's disease postmortem brain. In the first, M18 immunodensity was lower in two cortical areas in n = 32 Alzheimer's disease cases, although after synaptophysin normalization, the authors concluded that productive synapses in Alzheimer's disease brains might be enriched in M18 [46]. A later proteomic study [47] found increased M18 levels in cell membrane extractions from cortical samples of n = 5 Alzheimer's disease cases. These two studies did not examine the correlation of M18 with cognitive outcomes, or with the likelihood of dementia; nor were potential differences in M18 splice variants assessed. In addition, the small sample sizes limited the possibility of investigating possible effects of stage of illness, or potential confounders.
Altogether, clinical and preclinical data demonstrated that M18 is essential for neurosecretion, subtle alterations have a dramatic impact on normal synaptic function and cognition in humans and rodents, and could represent an early sign of synaptic pathology and cognitive impairment. For the present study we hypothesized that cortical downregulation of M18 long and/or short (M18L/S) splice variants could contribute to poorer cognitive performance and increased likelihood of dementia in old age. Due to the scarce data on specific functions of M18 isoforms, we first performed functional and anatomical characterization experiments that evidenced the complementary, rather than overlapping roles of M18L and M18S. Using tissue samples from the community-based Memory and Aging Project (MAP) [7], cortical expression of M18 variants was quantified in a large sample of MAP participants with and without clinical dementia, representing the range of cognitive impairment in an elderly, aging population. The potential effects of Alzheimer's disease pathology on M18 levels were further modeled using APP23 transgenic mice, which overexpress a pathogenic variant of the human amyloid precursor protein (APP) [48].
Discussion
In the present study, variations in frontal cortical M18 levels were associated with cognitive function and the likelihood of dementia in the elderly, beyond the effects of common age-related neuropathologies. Specific loss of M18L (but not M18S), which was found preferentially at GABAergic presynaptic terminals, may initiate synaptic dysfunction and consequent synaptic pathology.
We first characterized biochemical, cellular and anatomical aspects of M18 splice variants. Compared to M18S, M18L showed minimal binding affinity for syntaxin-1 (and hence for the SNARE complex) in two functional assays, co-IP and BN-PAGE. A previous study showed similar, but less pronounced, variant-specific binding affinities to syntaxin-1 [32]. Furthermore, in a yeast two-hybrid setting, depletion of any segment of the M18S (M18L was not reported) amino acid sequence (including the 25 C-terminal residues) completely abolished M18-syntaxin-1 association [49]. It is possible that the present assay conditions (e.g. absence of Ca2+) may induce a SNARE conformation that favors M18S relative to M18L binding in vitro. Since binding to syntaxin-1 is the major mechanism by which M18 exerts its functions [23, 28, 29], future studies should address this apparent difference in M18 variants in more detail. Given its globular, hydrophilic nature, M18 attachment to cell membranes is thought to occur through syntaxin-1 interaction [50]. Despite the lower affinity for syntaxin-1, M18L seemed confined to the highly hydrophobic, lipid raft-enriched fraction. While the role of these cholesterol-enriched microdomains in regulated exocytosis is unclear, some studies proposed that specific pools of target SNARE proteins may concentrate at lipid rafts, which in turn could discriminate between different kinds of neurotransmitter-containing vesicles [51]. Of note, the M18L C-terminal sequence does not display specific motifs for palmitoylation (cysteine enriched sequences), myristoylation (typically occurring at a N-terminal glycine), or prenylation (typically in a C-terminal cysteine), major post-translational modifications determining membrane localization for globular proteins. Possible explanations for M18L localization at lipid rafts could include a preferential M18L–syntaxin-1 interaction in the biochemical environment of these membrane microdomains, or alternatively, M18L may display greater affinity for another raft-attached protein. Munc18-interacting proteins (Mint1/2) may be key partners in this process, as they bear two membrane-attaching PDZ domains in addition to a M18-binding sequence [52]. Remarkably, Mint1/2 can regulate M18-syntaxin-1 interaction and were found also altered in Alzheimer's diseased postmortem brains [46]. Additionally, the presence of a putative phosphoserine site for Ca2+-calmodulin kinase II (CaMKII) activity in the C-terminal tail of M18L, but not M18S, may indicate a differential regulatory mechanism for the M18 variants [39]. This CaMKII activity was presumed to be responsible for the enhanced depression of synchronous vesicle release in M18 null pyramidal neurons rescued with M18L, compared to those carrying M18S only.
Immunohistochemical assays were consistent with tissue fractionation experiments. In contrast to the wide distribution of M18S across subcellular compartments, M18L was restricted to nerve endings and enriched in perisomatic areas. The M18S subcellular and histological distribution was similar to that previously reported for M18 [32, 53], and no cell-type specificity was presumed. The distribution of M18L was consistent with the localization expected for GABAergic presynaptic proteins [54]. Indeed, M18L closely matched VGAT distribution in all brain areas analyzed, especially in the hippocampus, where it was abundantly expressed in the perisomatic area of pyramidal cells. Interestingly, a previous in situ hybridization showed greatest expression of M18L in cells within the granule and pyramidal layers of mouse hippocampus [35]. Combined, these experiments indicate that M18L protein is mainly present in the presynaptic terminals of GABAergic interneurons within these hippocampal layers, although we cannot exclude some residual M18L expression in glutamatergic or other neuromodulatory terminals. This finding suggests a qualitative difference between the neurosecretory mechanisms of excitatory and inhibitory neurons. Several epileptic syndromes have been associated with firing abnormalities of dentate gyrus granule cells, likely due to an inappropriate inhibitory tone [55, 56]. This model is consistent with the mutations in M18 related to Ohtahara syndrome [41, 45], a disease accompanied by seizures and severe intellectual disability.
We found marked reductions of M18L, but not M18S, in DLPFC of MAP participants displaying clinical dementia and/or a large burden of Alzheimer's disease pathology. Pairwise correlations between M18L levels, the burden of Alzheimer's disease pathology, and cognitive function scores were all significant. Accordingly, participants having high M18L cortical density displayed greater cognitive resistance against the accumulation of Alzheimer's disease pathology, which may directly implicate M18L in the molecular mechanisms of cognitive reserve. Statistical modeling indicated that loss of M18L contributed moderately to a higher likelihood of dementia and to cognitive impairment. Additionally, including synaptophysin as a covariate did not alter the results, suggesting that loss of M18L is an early event in synaptic pathology. The importance of maintaining appropriate splicing balance between M18L/S isoforms is probably best represented by the dramatic endophenotypes observed in murine strains either lacking or overexpressing the M18L variant [34, 35]. While specific regulatory splicing mechanisms of the STXBP1 transcript are unclear, other splicing deficits have been associated with aging related neuropathologies and dementia [57].
The predominant expression of M18L in GABAergic terminals suggests that synaptic deficits may be initiated in inhibitory, rather than excitatory synapses. This could be related to the surprising relative upregulation of glutamatergic terminals observed in MCI [58]. Indeed, there is compelling evidence involving GABAergic system in early stages of dementia [59, 60]. By contrast, previous observations in transgenic mouse models suggested that cholinergic and glutamatergic terminals may collapse first as a result of APP-mediated synaptic damage [61]. In the present study, APP23 mice did not display reduced levels of M18L/S, which agrees with previous findings [46]. Thus, cortical loss of M18L may be an independent event from amyloid-β accumulation, and perhaps other common age-related neuropathologies, and could represent a distinct contribution to cognitive impairment, possibly through erosion of cognitive reserve.
Conclusions
The present study identified the M18L isoform as a relatively specific component of the GABAergic presynaptic machinery. In contrast to the alternatively spliced M18S, which is highly abundant and ubiquitously expressed in inhibitory and excitatory neurons, M18L appears restricted to lipid raft microdomains within the presynaptic compartment, and may have a function independent from its interaction with syntaxin-1. Importantly, M18L, but not M18S, is associated with cognitive function in the elderly, and may contribute to the mechanisms of cognitive reserve that protect against dementia related to age-associated pathologies.
Abbreviations
ANOVA:

Analysis of variance
ANCOVA:

Analysis of covariance
APP:

Amyloid precursor protein
BN-PAGE:

Blue native-PAGE
BSA:

Bovine serum albumin
CA:

Ammon's horn
CERAD:

Consortium to Establish a Registry for Alzheimer's Disease
CV:

Coefficient of variation
DC:

Detergent compatible
DG:

Dentate gyrus
DLPFC:

Dorsolateral prefrontal cortex
ECL:

Enhanced chemiluminescence
EDTA:

Ethylenediaminetetraacetic acid
ELISA:

Enzyme-linked immunoadsorbant assay
GABA:

Gamma-aminobutyric acid
GCL:

Granule cell layer
IP:

Immunoprecipitation
M18:

Munc18-1
M18L/S:

M18 long/short splice variant
MAP:

Memory and aging project
MCI:

Mild cognitive impairment
NCI:

No cognitive impairment
PAGE:

Polyacrylamide gel electrophoresis
PBS:

Phosphate-buffered saline
PMI:

Postmortem interval
PPIs:

Protein-protein interactions
PVDF:

Polyvinylidene difluoride
SDS:

Sodium dodecyl sulfate
SNAP-25:

Synaptosome-associated protein of 25 kDa
SNARE:

soluble N-ethylmaleimide-sensitive factor attachment protein receptor
STXBP1:

Syntaxin-binding protein-1
TBS:

TRIS-buffered saline
TritonX:

Triton X-100
VAMP:

Vesicle-associated membrane protein
VGAT:

Vesicle GABA transporter
VGLUT1:

Vesicle glutamate transporter-1
WT:

Wild-type
Declarations
Acknowledgements
We wish to express our gratitude to all participants in MAP, and to the staff in Rush Alzheimer's Disease Center. We also thank Hong-Ying Li and Jenny Yang for their skillful technical assistance. The study was supported by the Canadian Institutes of Health Research (MT-14037, MOP-81112), the Michael Smith Foundation for Health Research (Grant #5401), and the Jack Bell Chair in Schizophrenia. The Memory and Aging Project is a collaborative, multidisciplinary and translational research project subsidized by the National Institute on Aging (Grants R01AG17917, R01AG42210).
Open AccessThis article is distributed under the terms of the Creative Commons Attribution 4.0 International License (http://creativecommons.org/licenses/by/4.0/), which permits unrestricted use, distribution, and reproduction in any medium, provided you give appropriate credit to the original author(s) and the source, provide a link to the Creative Commons license, and indicate if changes were made. The Creative Commons Public Domain Dedication waiver (http://creativecommons.org/publicdomain/zero/1.0/) applies to the data made available in this article, unless otherwise stated.
Authors' Affiliations
(1)
Child and Family Research Institute, Vancouver, Canada
(2)
Department of Psychiatry, University of British Columbia, Vancouver, Canada
(3)
Department of Anesthesiology, Pharmacology and Therapeutics, University of British Columbia, Vancouver, Canada
(4)
Department of Psychiatry, University Medicine Goettingen, Goettingen, Germany
(5)
Department of Psychiatry and Psychotherapy, Ludwig-Maximilians-University Munich, Munich, Germany
(6)
Rush Alzheimer's Disease Center, Rush University Medical Center, Chicago, USA
Copyright
© Ramos-Miguel et al. 2015