Research article

Open Access
The cognitive defects of neonatally irradiated mice are accompanied by changed synaptic plasticity, adult neurogenesis and neuroinflammation
Molecular Neurodegeneration
2014
9:57
Received: 30 September 2014
Accepted: 12 December 2014
Published: 16 December 2014
Abstract
Background/purpose of the study
Epidemiological evidence suggests that low doses of ionising radiation (≤1.0 Gy) produce persistent alterations in cognition if the exposure occurs at a young age. The mechanisms underlying such alterations are unknown. We investigated the long-term effects of low doses of total body gamma radiation on neonatally exposed NMRI mice on the molecular and cellular level to elucidate neurodegeneration.
Results
Significant alterations in spontaneous behaviour were observed at 2 and 4 months following a single 0.5 or 1.0 Gy exposure. Alterations in the brain proteome, transcriptome, and several miRNAs were analysed 6–7 months post-irradiation in the hippocampus, dentate gyrus (DG) and cortex. Signalling pathways related to synaptic actin remodelling such as the Rac1-Cofilin pathway were altered in the cortex and hippocampus. Further, synaptic proteins MAP-2 and PSD-95 were increased in the DG and hippocampus (1.0 Gy). The expression of synaptic plasticity genes Arc, c-Fos and CREB was persistently reduced at 1.0 Gy in the hippocampus and cortex. These changes were coupled to epigenetic modulation via increased levels of microRNAs (miR-132/miR-212, miR-134). Astrogliosis, activation of insulin-growth factor/insulin signalling and increased level of microglial cytokine TNFα indicated radiation-induced neuroinflammation. In addition, adult neurogenesis within the DG was persistently negatively affected after irradiation, particularly at 1.0 Gy.
Conclusion
These data suggest that neurocognitive disorders may be induced in adults when exposed at a young age to low and moderate cranial doses of radiation. This raises concerns about radiation safety standards and regulatory practices.
Keywords
Dendritic spines
Hippocampus
Cortex
CREB
miR-132
Ionising radiation
Proteomics
Rac1
Cofilin
Alzheimer
Background
Ionising radiation remains a first-line treatment for malignancies of the central nervous system (CNS). However, therapeutic doses of cranial irradiation can lead to a long-lasting decrease in cognition and visual memory [1], the severity of which is more pronounced in children younger than three years at the time of treatment [2, 3]. Epidemiological evidence suggests that doses considerably lower than those used in radiotherapy may also lead to cognitive impairment in the young [4–6], possibly due to the extensive remodelling of the immature brain.
Indeed, toxins are more effective in disrupting adult brain function in mice alone or in combination with irradiation if the exposure occurs around neonatal day ten [7, 8]. A possible mechanism for the detriment is indicated by the persistent alteration of hippocampal processes by high radiation doses. This is associated with a depletion of stem and progenitor cells within the neurogenic niche of the hippocampal dentate gyrus (DG) [9]. Alternatively, changes may occur at the level of mature neuronal networks. Alterations in neural dendrite and spine morphology are in fact reported after irradiation [10], similar to those observed in cognitive disorders such as Alzheimer's [11], Rett syndrome [12] and Down's syndrome [13].
We have previously shown that ionising radiation immediately impairs synaptic plasticity-associated signalling pathways both in murine hippocampal neuronal HT22 cells and in mouse brain [14]. The aim of this study was to investigate long-term effects of low and moderate doses of irradiation on cognition and to elucidate the molecular mechanisms behind the possible damage. For this purpose, male NMRI mice were exposed to a single dose of total body gamma irradiation of 0 (sham), 0.02, 0.1, 0.5 and 1.0 Gy on postnatal day 10 (PND 10). Doses as low as 0.5 Gy had persistent effects on cognitive behaviour associated with alterations in Rac1-Cofilin pathway, increased neuroinflammation and decrease in adult neurogenesis.
Discussion
The long-term consequences of high radiation exposure to the brain regions involved in learning and memory consolidation are not understood. Epidemiological evidence cannot completely exclude that adverse effects may follow a dose as low as that from a single computed tomography (CT) scan of the head [4]. We have therefore investigated the dose–response relationship and biological processes involved in long-term cognitive impairment after irradiation.
Conclusions
Taken together, we have correlated persistent changes in cognitive performance with marked defects in adult hippocampal neurogenesis, increased neuroinflammation, and alterations in synaptic plasticity in the hippocampus and cortex. The complex radiation-induced long-term consequences cannot be explained by single cell type alterations but rather by dynamic interaction of multiple cell types including neurons, microglia and astrocytes (Figure
8
). A better understanding of the mechanisms of cognitive and neurological dysfunction at low and moderate radiation doses is of critical importance in minimising radiation-associated health risks and in planning radiation protection policies and regulations.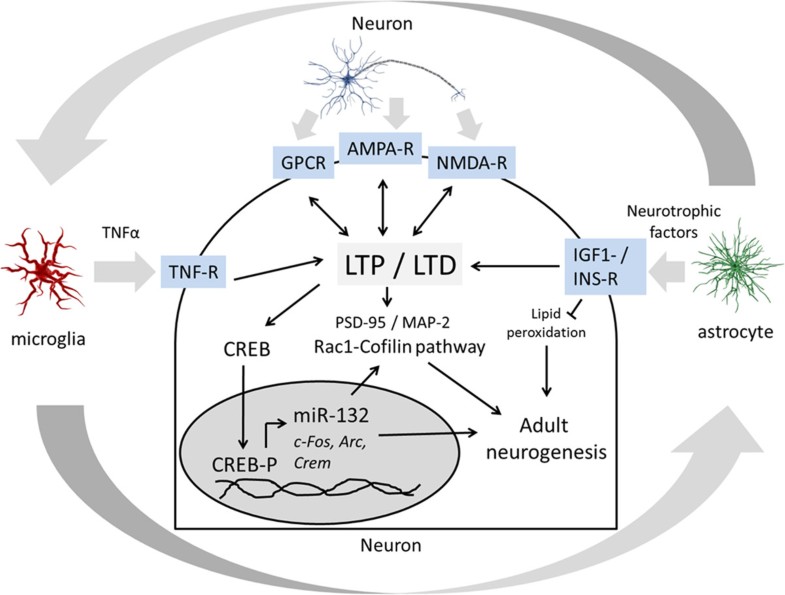 Abbreviations
ANOVA:

Analysis of variance
AMPA:

α-amino-3-hydroxy-5-methyl-4-isoxazolepropionic acid
C:

Cortex
CNS:

Central nervous system
CR:

Crest area
CT:

Computed tomography
DG:

Dentate gyrus
DAB:

Diaminobenzidine
FDR:

False discovery rate
GO:

Gene ontology
H:

Hippocampus
HL:

Hilus
HPLC:

High pressure liquid chromatography
ICPL:

Isotope coded protein label
IB:

Infrapyramidal-blade
IEG:

Immediate-early response gene
IPA:

Ingenuity pathway analysis
LC-MS/MS:

Liquid chromatography tandem mass spectrometry
LTP:

Long term potentiation
LTD:

Long term depression
MDA:

Malondialdehyde
miRNA:

microRNA
ML:

Molecular layer
NMDA:

N-methyl-D-aspartate
PND10:

Postnatal day 10
PBS:

Phosphate buffered saline
SB:

Suprapyramidal-blade
SDS:

Sodium dodecyl sulphate
SEM:

Standard error of the mean
SGZ:

Subgranular zone.
Declarations
Acknowledgements
The research leading to these results was supported by a grant from the European Community's Seventh Framework Programme (EURATOM) contract no. 29552 (CEREBRAD). The funders had no role in study design, data collection, analysis and interpretation, decision to publish, or preparation of the manuscript. We thank Stefanie Winkler, Sandra Helm and Jacqueline Mueller for their outstanding technical assistance.
Authors' Affiliations
(1)
Institute of Radiation Biology, Helmholtz Zentrum München, German Research Center for Environmental Health, Neuherberg, Germany
(2)
Laboratory of Radiation Biology and Biomedicine, Agenzia Nazionale per le Nuove Tecnologie, l'Energia e lo Sviluppo Economico Sostenibile (ENEA) Centro Ricerche (CR) Casaccia, Rome, Italy
(3)
Department of Environmental Toxicology, Uppsala University, Uppsala, Sweden
(4)
Institute of Pathology, Helmholtz Zentrum München, German Research Center for Environmental Health, Neuherberg, Germany
(5)
Research Unit Protein Science, Helmholtz Zentrum München, German Research Center for Environmental Health, Neuherberg, Germany
(6)
Division of Biomedical Radiation Sciences, Svedberg Laboratory, Uppsala University, Uppsala, Sweden
(7)
Chair of Radiation Biology, Technische Universität München, Munich, Germany
Copyright
© Kempf et al.; licensee BioMed Central. 2014
This article is published under license to BioMed Central Ltd. This is an Open Access article distributed under the terms of the Creative Commons Attribution License (http://creativecommons.org/licenses/by/4.0), which permits unrestricted use, distribution, and reproduction in any medium, provided the original work is properly credited. The Creative Commons Public Domain Dedication waiver (http://creativecommons.org/publicdomain/zero/1.0/) applies to the data made available in this article, unless otherwise stated.