Tau PET imaging: present and future directions
Molecular Neurodegeneration
2017
12:19
Received: 30 November 2016
Accepted: 15 February 2017
Published: 20 February 2017
Abstract
Abnormal aggregation of tau in the brain is a major contributing factor in various neurodegenerative diseases. The role of tau phosphorylation in the pathophysiology of tauopathies remains unclear. Consequently, it is important to be able to accurately and specifically target tau deposits in vivo in the brains of patients. The advances of molecular imaging in the recent years have now led to the recent development of promising tau-specific tracers for positron emission tomography (PET), such as THK5317, THK5351, AV-1451, and PBB3. These tracers are now available for clinical assessment in patients with various tauopathies, including Alzheimer's disease, as well as in healthy subjects. Exploring the patterns of tau deposition in vivo for different pathologies will allow discrimination between neurodegenerative diseases, including different tauopathies, and monitoring of disease progression. The variety and complexity of the different types of tau deposits in the different diseases, however, has resulted in quite a challenge for the development of tau PET tracers. Extensive work remains in order to fully characterize the binding properties of the tau PET tracers, and to assess their usefulness as an early biomarker of the underlying pathology. In this review, we summarize recent findings on the most promising tau PET tracers to date, discuss what has been learnt from these findings, and offer some suggestions for the next steps that need to be achieved in a near future.
Keywords
TauPositron emission tomography imagingNeurodegenerative diseasesTracer developmentBiomarkerClinical research
Background
The hyperphosphorylation and abnormal aggregation of tau, a microtubule-associated protein essential to neuronal stability and functioning, is implicated in various neurodegenerative diseases, labelled as tauopathies. The most common of these is Alzheimer's disease (AD) [1]. One of the main pathological hallmarks of AD, along with the formation of amyloid-beta (Aβ) plaques, is the aggregation of tau into paired helical filaments (PHFs) and, subsequently, into neurofibrillary tangles (NFTs). Neuropathological studies have indicated that the regional distribution of NFTs follows a stereotypical pattern in AD, defined according to six successive "Braak stages" [2]: in the first two stages, NFTs are limited to the transentorhinal region (I-II), before spreading to limbic (III-IV), and isocortical association areas (V-VI). Other types of tau deposits are characteristic of various tauopathies. These deposits exhibit distinct regional distributions in the diseased brain [3], and may be composed of different tau isoforms. Indeed, there are six different isoforms of tau, formed by alternative mRNA splicing of the microtubule-associated protein tau (MAPT) gene. More importantly, the inclusion or exclusion of the exon 10 results in either 3 repeats (3R) or 4 repeats (4R) of the microtubule binding domain being transcribed in the tau protein, respectively [4]. While the 3R/4R ratio is 1:1 under physiological conditions and in patients with AD, tangle predominant senile dementia and chronic traumatic encephalopathy, 3R isoforms are dominant in Pick's disease and 4R isoforms are dominant in corticobasal degeneration (CBD), progressive supranuclear palsy (PSP) and argyrophilic grain disease [5]. The role of tau aggregation in the pathophysiology of these neurodegenerative diseases, however, remains unclear. This is why the accurate, specific targeting of tau deposits in vivo in the brain would be highly valuable. However, this has historically been a formidable challenge for the scientific community.
Until very recently, it was only possible to observe tau deposits by immunohistochemistry in
post-mortem
tissue using specific antibodies, and the load of tau protein in the brain was only able to be measured in vivo using invasive indirect methods such as measuring the concentration of the protein (total- and phospho-tau) in the cerebrospinal fluid (CSF). Because tau – unlike Aβ plaques – aggregates primarily intracellularly (Fig.
1
), it may be more difficult to access in vivo. However, over the past 5 years, a great effort has been ongoing to develop selective tau tracers for positron emission tomography (PET) imaging [
6
]. The emergence of promising tau-specific PET tracers, which are now available for clinical evaluation, has been a major breakthrough in research on AD and other related diseases. Specifically, it holds promise for exploring the regional patterns of tau deposition in vivo in different pathologies, discrimination between neurodegenerative diseases, and monitoring the spread of tau along disease progression. In addition, the combination of these tau tracers with other existing biomarkers bears great potential to help, in the times to come, discriminate between different pathologies, and, possibly, different tauopathies.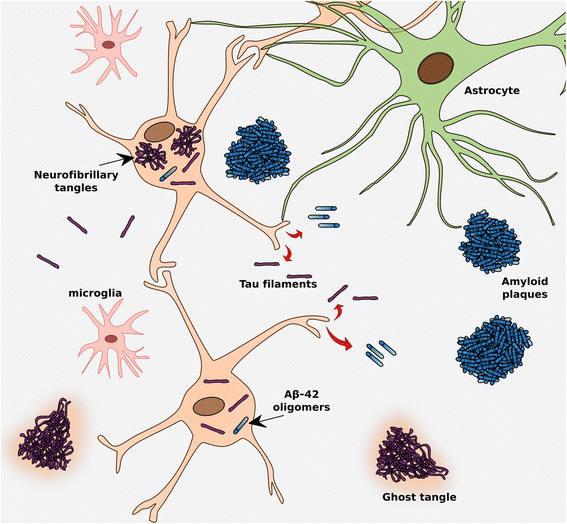 There is a fast increasing number of publications reporting findings on the recently developed tau PET tracers (Fig.
2
). In this review, we summarize and discuss what has been learnt so far and suggest possible directions for the near future in tau imaging.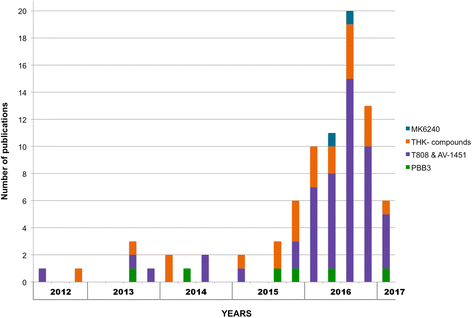 Future directions
This review summarizes the recent literature on the currently most promising families of tracers for specifically targeting tau in vivo. Both preclinical and early in vivo PET findings are encouraging, showing good specificity for tau and regional distribution that matches the expected pattern of tau pathology. Further work, however, is required in order to fully explain the binding properties of the tau PET tracers, and eventually to better comprehend the role of tau deposition in vivo in the pathophysiology of AD and other non-AD tauopathies.
Further in vitro characterization is needed
The variety and complexity of tau deposits in the various tauopathies requires a great effort of characterization of tau tracers. Evidence for the specific isoforms and structural conformations of tau to which the tracers bind remains scarce. Important studies have provided preliminary but crucial information about the in vitro binding of AV-1451 in different tauopathies, reporting more extensive binding in AD brain tissue than in tissue from other diseases such as CBD, PSP, or Pick's disease [31, 37]. These studies have also suggested that AV-1451 would not bind – or would bind to a limited extent only – to 4R tau deposits. Similar in vitro investigations are so far lacking for the other tau tracers. This matter requires further work in the near future so that a similar level of characterization is reached for all promising tracers with respect to their binding properties.
Similarly, we need to identify the binding sites of the tracers, along with the number of sites to which they bind. Studies have suggested multiple binding sites on tau for THK tracers, and already comparisons between tracers suggest that some target the same sites (AV-1451 and MK-6240) [23] while others do not (AV-1451 and PBB3) [33]. Future studies investigating the location and accessibility of the binding sites in different types of tau deposits will add information essential to our understanding of the tracers distribution patterns. Indeed, it is likely that the accessibility of a given tracer to its binding site(s) will be affected by the isoform and conformation of tau in the targeted deposit.
Different tracers for different diseases?
Because the different tracers come from distinct chemical families, they are likely to bind differently to tau deposits. While all tracers described in this review have good affinity to tangles and have shown a similar binding pattern in vitro and in vivo in the AD brain, which also resembles the pathological pattern described with immunostaining, discrepancies seem to exist between the tracers in their binding to tau deposits in non-AD cases. There is, however, very little in vitro evidence with regard to the binding of tau tracers in non-AD tauopathies, especially for THK tracers and PBB3, and, to date, no head-to-head comparisons between tracers (in the same patient populations), either in vitro or in vivo. This represents an important future challenge, as such results would provide much required understanding of tracers specificity, and would help determine whether some tracers may be more suitable for tracking tau deposition in some tauopathies than in others. In addition, new tracers currently under development or undergoing preclinical assessment may have advantages over those already described, such as lower off-target binding. Comparison between these candidates and other tau tracers will also be required.
Off-target binding
The off-target binding observed for all the tau tracers, both in vivo and in vitro, is a major issue. There is currently a great effort to try to define what this off-target may represent. The fact that some of the regions showing off-target binding in vivo are regions where specific binding would be expected in some tauopathies is of particular concern; this is the case, for instance, for the basal ganglia in CBD and PSP. Early evidence from in vitro work on AV-1451 has suggested that the signal observed in several brain regions could be due to binding to different features, such as pigmented and mineralized structures [31], MAO-A [23] but also MAO-B [114, 115]. Further work to resolve the question of this off-target binding is thus required.
The use of tau animal models
Transgenic mouse models of tau deposition offer the potential to assess the ability of tau tracers to track the temporal and regional deposition of tau. Based on the few in vivo micro-PET studies thus far performed, there is evidence that certain mouse models may not be suitable for investigating the binding of at least some of the tau tracers. Additional studies using various mouse models to assess in vivo binding will be of great interest, and are crucially needed for the future development and testing of novel anti-tau therapies.
Assessment of tau propagation in vivo
In parallel with in vitro characterization studies, the large body of work that became rapidly available on in vivo retention of tau tracers in humans has provided us with important insights into tau deposition. Studies have attempted to stage tau progression in vivo in AD patients by classifying individuals into PET-based Braak stages according to the retention pattern of tau PET tracer. Future studies using a longitudinal design as well as pathological confirmation will be necessary for validation of these in vivo staging models. In addition, tau PET imaging will likely prove of use in clarifying the role of tau pathology with respect to other AD biomarkers [103] and in the operationalization of novel classification schemes [116]. Increasing evidence from in vivo studies suggests that, while they do not share the same deposition patterns, PET-measured tau and amyloid deposition in AD are associated in various areas of the brain. This fits with the hypothesis of a dynamic interaction between tau and Aβ pathology. Again, the absence of longitudinal studies precludes us from drawing conclusions, but these findings already illustrate the potential of in vivo investigations to further our understanding the dynamic process of tau deposition and its interaction with other key actors in the disease. The emergence of longitudinal multimodal data in a near future should allow to test how the combination of tau imaging with other existing biomarkers may help increase diagnostic accuracy.
As mentioned above, there has been great interest in recent decades in studying familial forms of AD, as these enable the investigation of biological mechanisms occurring in the disease course even before the onset of clinical symptoms. One case report [117] described a high in vivo retention of [18F]AV-1451 in a symptomatic carrier of a presenilin-1 mutation (Thr116Asn) [118]. While very little is known about this particular mutation and its underlying pathology, which precludes further conclusions, this result does offer potential for more investigations in familial AD, particularly future longitudinal assessments in patients in the presymptomatic stages; this would certainly allow the collection of valuable information on the role of tau in the disease course at the earliest stages.
The opportunity of assessing the pathophysiological role of tau in vivo in tauopathies other than AD has stirred great interest, and promising findings have emerged. While most come from case studies, one study on groups of patients illustrated for the first time the potential of regional measurement of [18F]AV-1451 retention to discriminate between two tau-related diseases (dementia with Lewy bodies and AD) [94]. Further replication studies in larger sample sizes are however needed. In vivo work in other diseases affected by tau, such as chronic traumatic encephalopathy, is also of interest, and preliminary reports have started to emerge [119, 120]. Assessment of the specificity of the tracers in other proteinopathies, such as TDP-43-related diseases, will also be of interest.
Because of the novelty of tau radiotracers, most of the work comparing their intra-individual ante-mortem and post-mortem binding has to date used animal models. Among the few reports on humans, discrepancies have been reported between the in vivo and in vitro binding of AV-1451 in cases with 4R tau deposits [110], highlighting the important questions of how different forms of tau may affect tracer binding, and how transposable in vitro observations are to in vivo PET. It is possible that dynamic processes occurring in vivo, which are not possible to assess in post-mortem tissue, may play a role. Future studies in pathologically confirmed cases investigating the correspondence between results from in vivo tau PET and post-mortem tau staining are imperative in order to shed more light on this matter.
In addition, there remain methodological concerns regarding quantification in the assessment of in vivo tau tracer retention in non-AD tauopathies. Specifically, while reference-tissue models have been shown to describe retention well over time for most tracers, reference region selection could be an issue, as the commonly used cerebellum can be affected by tau pathology in some non-AD tauopathies as well as in the later stages of AD [53]. This matter deserves more attention, especially when larger cohorts are studied. Harmonization of quantification methods across studies and possibly across tracers (as it is now happening for Aβ PET with centiloid scaling [121]), will also be required for better comparison of findings.
Tau PET versus tau CSF
Some studies, but not all, have reported an association between regional tau PET retention and CSF tau levels. Although exploratory, these findings seem to indicate that, as with Aβ biomarkers, CSF and PET-based measures of tau may result from the same pathological processes, but may not invariably mirror one another, instead providing complementary information. These investigations will need to be pursued in larger AD cohorts, and possibly with new CSF assays.
The use of tau PET in clinical trials
As a pathological hallmark in AD and other tauopathies, tau aggregates have been an attractive target for immunization therapy. In the absence of efficient treatments able to stop disease progression, and with the failure of several therapies aiming to reduce Aβ load, clinical trials focusing on the inhibition of tau aggregation have emerged [122]. While few results from such trials are as yet available, a recent phase III study testing the tau protein aggregation inhibitor Methylthioninium reported no benefit from the treatment in patients with mild to moderate AD [123]. Further results are however expected from ongoing phase II and III trials after promising early results [124], which will hopefully report positive effects of treatments. Along with this increasing interest to develop novel anti-tau therapies, there is a compelling need to incorporate tau PET imaging as a reliable outcome measure to evaluate drug efficacy. Therefore, as the field of tau PET imaging advances, tau PET will become important to evaluate the therapeutic effects of such drugs on tau burden in the brain, and will certainly be increasingly incorporated in future clinical trials.
Conclusions
In conclusion, the growing number of studies investigating tau PET has provided exciting and encouraging results on the usefulness of tau PET tracers in exploring tau pathology in various diseases. New paths are now becoming open to us, and more in-depth work is required to further our understanding of the role of tau in AD and other tauopathies.
Abbreviations
AD:

Alzheimer's disease
ApoE:

Apolipoprotein E
Aβ:

Amyloid-beta
CBD:

Corticobasal degeneration
CN:

Cognitively normal
CSF:

Cerebrospinal fluid
FDG:

Fluorodeoxyglucose
MAO:

Monoamine oxidase
MAPT:

Microtubule-associated protein tau
MCI:

Mild cognitive impairment
MRI:

Magnetic resonance imaging
NFTs:

Neurofibrillary tangles
PART:

Primary age-related tauopathy
PET:

Positron emission tomography
PHFs:

Paired-helical filaments
PIB:

Pittsburgh compound B
PSP:

Progressive supranuclear palsy
ROI:

Region of interest
SNAP:

Suspected non-AD pathophysiology
SUVR:

Standard uptake value ratio
Declarations
Acknowledgements
The authors wish to thank Dr. Rajnish Kumar for his help with the chemical structures and nomenclature of the tau radiotracers.
Funding
This study was financially supported by the Swedish Foundation for Strategic Research (SSF), the Swedish Research Council, the Foundation for Old Servants, the Swedish Brain Foundation, the Swedish Alzheimer's Foundation (Alzheimerfonden), Demensfonden, the Wenner-Gren Foundation and the EU FW7 large-scale integrating project INMiND (http://www.uni-muenster.de/INMiND).
Availability of data and materials
Data presented in Fig. 4 have been used in an earlier publication (Lemoine et al., 2015 [24]). Permission from the journal to use this illustration was obtained. All other tables and figures are original for this review.
Authors' contributions
LSA reviewed the literature, drafted and critically revised the manuscript; LL drafted and critically revised the manuscript; KC drafted and critically revised the manuscript; AL drafted and critically revised the manuscript; ERV drafted and critically revised the manuscript; AN drafted and critically revised the manuscript. All authors read and approved the final manuscript.
Competing interests
The authors declare no competing interests.
Consent for publication
Not applicable.
Ethics approval and consent to participate
Not applicable.
Open AccessThis article is distributed under the terms of the Creative Commons Attribution 4.0 International License (http://creativecommons.org/licenses/by/4.0/), which permits unrestricted use, distribution, and reproduction in any medium, provided you give appropriate credit to the original author(s) and the source, provide a link to the Creative Commons license, and indicate if changes were made. The Creative Commons Public Domain Dedication waiver (http://creativecommons.org/publicdomain/zero/1.0/) applies to the data made available in this article, unless otherwise stated.
Authors' Affiliations
(1)
Department NVS, Center for Alzheimer Research, Division of Translational Alzheimer Neurobiology, Karolinska Institutet, Huddinge, Sweden
(2)
Department of Geriatric Medicine, Karolinska University Hospital Huddinge, Stockholm, Sweden