Research article

Open Access
Mitochondrial quality, dynamics and functional capacity in Parkinson's disease cybrid cell lines selected for Lewy body expression
Molecular Neurodegeneration
2013
8:6
Received: 31 August 2012
Accepted: 21 January 2013
Published: 26 January 2013
Abstract
Background
Lewy bodies (LB) are a neuropathological hallmark of Parkinson's disease (PD) and other synucleinopathies. The role their formation plays in disease pathogenesis is not well understood, in part because studies of LB have been limited to examination of post-mortem tissue. LB formation may be detrimental to neuronal survival or merely an adaptive response to other ongoing pathological processes. In a human cytoplasmic hybrid (cybrid) neural cell model that expresses mitochondrial DNA from PD patients, we observed spontaneous formation of intracellular protein aggregates ("cybrid LB" or CLB) that replicate morphological and biochemical properties of native, cortical LB. We studied mitochondrial morphology, bioenergetics and biogenesis signaling by creating stable sub-clones of three PD cybrid cell lines derived from cells expressing CLB.
Results
Cloning based on CLB expression had a differential effect on mitochondrial morphology, movement and oxygen utilization in each of three sub-cloned lines, but no long-term change in CLB expression. In one line (PD63CLB), mitochondrial function declined compared to the original PD cybrid line (PD63Orig) due to low levels of mtDNA in nucleoids. In another cell line (PD61Orig), the reverse was true, and cellular and mitochondrial function improved after sub-cloning for CLB expression (PD61CLB). In the third cell line (PD67Orig), there was no change in function after selection for CLB expression (PD67CLB).
Conclusions
Expression of mitochondrial DNA derived from PD patients in cybrid cell lines induced the spontaneous formation of CLB. The creation of three sub-cloned cybrid lines from cells expressing CLB resulted in differential phenotypic changes in mitochondrial and cellular function. These changes were driven by the expression of patient derived mitochondrial DNA in nucleoids, rather than by the presence of CLB. Our studies suggest that mitochondrial DNA plays an important role in cellular and mitochondrial dysfunction in PD. Additional studies will be needed to assess the direct effect of CLB expression on cellular and mitochondrial function.
Keywords
Lewy Body
Oxygen Consumption Rate
Mitochondrial Morphology
Mitochondrial Gene Expression
Mitochondrial Movement
Background
The neuropathological diagnosis of Parkinson's disease (PD) is based on the loss of dopaminergic neurons in the substantia nigra, as well as by the presence of Lewy bodies (LB) and Lewy neurites in the substantia nigra and other brain regions [1]. A plethora of models have served as the foundation for research into PD pathogenesis. They range from yeast to primates and utilize nuclear gene expression based on inherited forms of PD, as well as dopaminergic neurotoxins [2].
Of these PD models, human cytoplasmic hybrids or "cybrids" are unique because platelet-derived mitochondrial DNA (mtDNA) from sporadic PD patients is expressed in mtDNA-free (Rho0) human neuroblastoma (SH-SY5Y) cells or other cell lines [3, 4]. Human cybrid cell lines provide an opportunity to study cellular consequences of the expression of mtDNA from sporadic PD patients.
Recent studies have clearly linked the consequences of mitochondrial dysfunction with sporadic and familial forms of PD [5, 6]. Our PD cybrid lines are characterized, in part, by abnormalities in oxygen utilization and mitochondrial electron transport chain (mtETC) function [3, 7]. In addition, PD cybrid lines spontaneously generate intracellular proteinaceous aggregates (cybrid Lewy bodies: CLB) that replicate the composition and ultrastructure of cortical LB [8]. Like LB in PD brain sections, CLB in our PD cybrid lines created from individual PD patients stain with eosin, Congo red, Thioflavin S, α-synuclein, and ubiquitin, as well as with markers for mitochondria, the proteasome and lysosomes [8]. Until recently, LB studies have been limited to the analysis of post-mortem tissues [9–11]. CLB formation in PD cybrids provides a unique opportunity to explore the influence of LB formation on cellular and mitochondrial function in a live cell model.
In an effort to better understand the relationship between CLB expression and mitochondrial and cellular dysfunction, we selected three different CLB-expressing PD cybrid cell lines that exhibit a range in oxygen consumption from severely compromised to near normal function. The three PD cybrid lines used in this paper were generated from platelets donated by patients at stage 2.0 Hoehn and Yahr Parkinson's disease staging score (see Additional file
1
). Other patient characteristics such as age, disease duration, L-dopa therapy and presence of dementia were also determined (see Additional file
1
). Each of these three original PD cybrid lines (PD61
Orig
, PD63
Orig
, PD67
Orig
) was sub-cloned to enrich for cells expressing CLB by labeling the CLB in living cells with Congo red. Cell clusters expressing CLB from each PD line were selected, sub-cloned and expanded to generate cybrid lines PD61
CLB
, PD63
CLB
and PD67
CLB
(see Figure
1
A).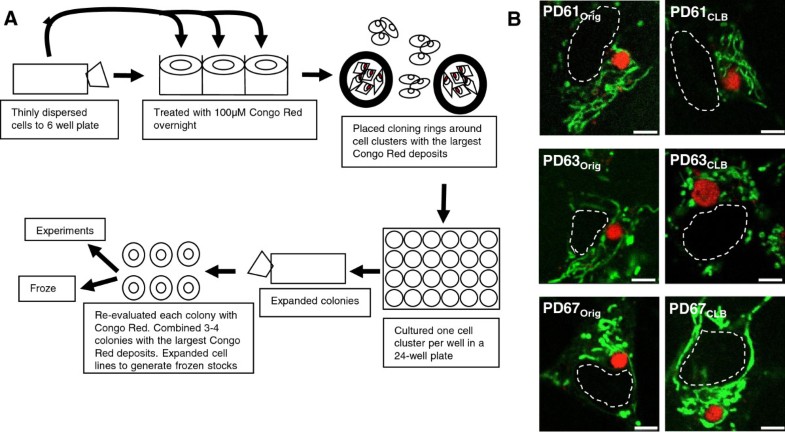 Because other investigators have suggested that LB may be detrimental to neuronal function and survival [12–14], we anticipated that CLB-selected PD cybrid lines (PDCLB) would exhibit compromised function compared to the original PD cybrid lines (PDOrig). Contrary to our expectations, enrichment for CLB expression differentially affected each of the three PDOrig cybrid lines. Cellular and mitochondrial function improved in PD61CLB, worsened in PD63CLB and was unchanged in PD67CLB. Analysis of our results indicates that CLB expression in PDCLB cybrid lines did not correlate with the changes in cellular and mitochondrial function we detected. Rather, the change in function between PDOrig and PDCLB cybrid lines was determined by the presence or absence of mtDNA in nucleoids in PDOrig cells containing CLB.
Methods
Cybrid cell lines
Cybrid cell lines were created from individual patients and controls as described previously [3, 78]. Cells were grown in growth media (GM) consisting of high glucose Dulbecco's modified Eagle medium (DMEM, Gibco, Life Technologies) with 10% fetal bovine serum, antibiotic/antimycotic, 100μg/ml sodium pyruvate and 50μg/ml uridine, as described previously, to support the survival of cells with mitochondrial dysfunction [8, 79]. For imaging, cells were plated on 35mm poly-lysine coated dishes (MatTek Corp.). Cell lines were only kept in culture for a maximum of two months. Cell pellets from PDOrig and PDCLB pairs were always thawed simultaneously and grown under the same culture conditions.
Generation of sub-cloned cybrid lines based on CLB expression
Glass-bottomed 6-well plates (MatTek Corp.) were treated with 200μg/ml poly-l-lysine/H2O (m.w. 30,000-70,000, Sigma-Aldrich) at room temperature for ~40 min. Wells were rinsed twice with sterile water and plates were stored dry until they were loaded with cell suspension (typically 20,000 cells). Selected cybrid lines were harvested from T75 CellStar flasks (Greiner bio-one) with 0.05% trypsin diluted in phosphate buffered saline. GM was used to quench trypsin activity prior to re-plating of cells into glass-bottomed 6-well plates. Cells were incubated at 37°C with 5% CO2 for 24-48 hours until cells divided into 2-4 cell clusters. Following an overnight (~18-24 hours) treatment with 100μM Congo red (Sigma-Aldrich) made up in GM, dishes were rinsed twice with GM without phenol red (clearGM) and further stained with 80nM Mitofluor Green (Invitrogen) in clearGM for 20 minutes at 37°C. Wells were again rinsed with clearGM and labeled cells were visualized with epi-fluorescence (Olympus IX-70 microscope) using fluorescein isothiocyanate (FITC) filters (Mitofluor Green) and Texas Red filters (Congo red). Clusters of cells with large (3-5μM) Congo red stained spheres were marked with an inked objective marker (Olympus) on the underside of the coverslip well. After removing GM from the wells, 6mM sterile glass cloning rings were seated around the marked cell clusters using sterile silicone grease (both from Thermo Fisher). Each cell cluster was trypsinized (see above) and re-plated into one well of a 24-well plate. The expression of Congo red positive CLB was later reassessed and the wells with the largest and most numerous Congo red stained spheres were retained and combined (2-5 clones per well). The other clones were discarded. Combined clones were cultured in GM and passed into larger wells as they became confluent. Sub-cloned cybrid lines were expanded into T25 flasks (Greiner bio-one). Each cybrid line was harvested and re-plated into coverslip-bottom dishes and re-selected for CLB expression using Congo red and MitoFluor Green. These colonies were expanded into T75 flasks, at which time aliquots from each line were frozen for subsequent study.
Quantification of Congo red positive fluorescence
Cells were plated in 35mm dishes as described above and grown for 2-4 days until at least 75% confluent. Cells were stained with Congo red at 100μM for 24 hours. Dishes were then washed two times with clearGM with 25mM Hepes (Gibco, Life Technologies). Dishes were blinded for image collection and quantification. Images were acquired using an Olympus FV1000 confocal microscope (60X objective) at room temperature. Ten representative fields were taken at random per dish and analyzed using MetaMorph image analysis software (Molecular Devices). Studies were repeated with cells from a different passage. Images were set to a common inclusive threshold and pixels over 1μm were measured for total pixel area, pixel intensity and pixel length. Pixel values were normalized to number of cells in each image. To calculate CLB frequency, Congo red positive inclusions over 1μm in diameter were counted for each set of ten images per dish. Number of CLB per dish was normalized to number of cells counted per dish. Student's t-tests were run to compare the original and sub-clone pairs (Prism, Graph Pad).
Electron Microscopy
Sub-confluent T75 flasks for each cybrid line were fixed with 2% paraformaldehyde and 2.5% glutaraldehyde in 0.1M phosphate buffered saline, processed for EM, sectioned and stained by staff members of the Advanced Microscopy Facility at the University of Virginia, as previously described [27]. Stained sections were imaged on a Jeol JEM-1230 transmission electron microscope at the Virginia Commonwealth University Microscopy Facility.
Nucleoid imaging and quantitation
Live cells were grown in 35mm dishes, stained with Quant-It PicoGreen dsDNA and MitoTracker Red CMXRos (both from Molecular Probes/Life Technologies) and imaged in clearGM as described above. Dishes were blinded prior to imaging. Six images were acquired at random per dish using an Olympus FV300 confocal microscope. Cell count totals were acquired by counting the PicoGreen positive nuclei per frame. Nucleoids were defined as areas of PicoGreen and Mitotracker Red colocalization. Cells with less than five nucleoids per cell were considered "low/null". All others were considered "high". Only cells with both mitochondria and a nucleus in focus were counted. Two-way ANOVA with Bonferroni multiple comparisons were run to compare PDOrig and PDCLB cell lines at "low/null" versus "high" (Prism, Graph Pad). For analysis of nucleoids in cells with CLB, cells were co-stained with Congo red, MitoTracker Deep Red (50nM for 45 minutes, Molecular Probes/Life Technologies), and PicoGreen. Cells were imaged in clearGM on an Olympus FV1000 confocal microscope.
Cellular Respiration
Oxygen consumption was measured using the Seahorse Extracellular Flux Analyzer (Seahorse XF24, Seahorse Biosciences) according to manufacturer's instructions. In brief, cells were plated in Seahorse XF24 culture plates and grown for 24 hours to form a confluent monolayer. One hour prior to each experiment, growth media was exchanged for unbuffered DMEM, pH 7.4. The following inhibitors were used to obtain a bioenergetic profile: oligomycin (1μM), FCCP (300nM), rotenone (100nM), and antimycin A (10μM). For all inhibitors, the pH was adjusted to 7.4 prior to the experiment. For each Seahorse experiment, three basal measurements of the oxygen consumption rate (OCR) were acquired and calculated by the Seahorse XF. Compounds were added in the order mentioned previously, with two measurements following each inhibitor. At the end of each experiment, OCR values were normalized to protein content (Micro BCA Kit, Pierce). OCR values are reported as means ± SEM, except for uncoupled respiration (FCCP), where the highest value was used. Statistics were calculated using two-way ANOVA with Bonferroni multiple comparisons post-hoc tests in Prism software (GraphPad, Prism).
RT-qPCR
RNA and DNA were extracted from three independent PDOrig and PDCLB cell pellets from sub-confluent T175 flasks using the All Prep RNA/DNA Kit (Qiagen). RNA and genomic DNA (gDNA) were quantified using the NanoDrop 2000 (ThermoScientific). Complimentary DNA (cDNA) was made from RNA using the iScript cDNA Synthesis Kit (Bio-Rad). Quantitative real-time PCR (RT-qPCR) was run on cDNA and gDNA samples to measure mitochondrial gene and mitochondrial biogenesis gene expression, as well as mitochondrial gene copy number. Glyceraldehyde 3-phosphate dehydrogenase, beta-actin and 18sRNA were used as endogenous reference genes. Primer and probe sequences can be found in the Additional file 7. Starting quantities were calculated by Bio-Rad CFX manager software based on cycle threshold of known standards (human fetal brain cDNA, human gDNA or human mtDNA). Samples and standards were run in quadruplicate. All values were normalized to the geometric mean of each sample from the endogenous reference genes. PDOrig and PDCLB data was expressed as a fold change from the pooled mean of three age-matched disease-free control cell lines (Controls 56, 64 and 68) for each gene (see Keeney et al. [7]). The fold changes for each gene from the mean of each individual PDOrig or PDCLB cell line were then averaged to represent the fold increase or decrease from control across each gene profile. Mitochondrial cDNA gene expression and gDNA copy number profiles were made up of ND2, CO3, ND4 and 12srRNA. The mitochondrial biogenesis gene expression profile was made up of PGC-1α, TFAM, NRF1 and TFB1M. Statistical analysis was done using Prism software (GraphPad) using student t-test. In the cases of unequal variances, Welch's correction was performed.
Axonal transport of mitochondria in the processes of differentiated PDOrig and PDCLBcybrid neurons
Proliferating PDOrig and PDCLB cells were harvested from T75 flasks with 0.05% trypsin (Invitrogen, Life technologies) as previously described [44]. 40,000 cells in 2ml GM were added to each #0 glass bottomed 35mm dishes (MatTek Corp). After 18-24 hours, GM was removed and the differentiation media (DM) consisting of 500ml of Neurobasal with 10ml B27 supplements (Invitrogen, Life Technologies) plus glutamine (0.5mM), pyruvate, uridine and antibiotic-antimycotic, as previously described [45]. Staurosporine (4nM-8nM) dilutions were made fresh in DM and replaced every 2-3 days. Differentiation was completed on day 12 [45].
To measure mitochondrial movement, PDOrig and PDCLB cybrid neuronal cells were incubated with 50nM MitoTracker CMXRos (MTRed; Invitrogen, Life Technologies) for 10 min at 37°C. Time-lapse recordings were made using an Olympus IX70 microscope equipped with epifluorescence and Nomarski optics, a Lambda 10-2 filter wheel, a Photometrics CoolSnap HQ progressive scan CCD camera and a heater/controller to maintain cybrid cells at 37°C during image collection (World Precision Instruments, Inc). Image stacks and velocity measurements were collected using MetaMorph Imaging System (Molecular Devices). For standard recordings, images were collected every 3 seconds for 2 min. Mitochondrial movement was measured in PD61Orig (n=4 cultures, 73 processes), PD61CLB (n=4 cultures, 94 processes), PD67Orig (n=4 cultures, 98 processes), PD67CLB (n=5 cultures, 108 processes), PD63Orig (n=8 cultures, 167 processes) and PD63CLB (n=4 cultures, 80 processes). Unlike other studies, the velocity of all mitochondria in each cell process was tracked individually whether they moved or not. The average velocity for individual mitochondria was calculated using intervals where movement occurred. Neutral density filters are used to reduce illumination from the mercury lamp and minimize phototoxicity.
Abbreviations
alpha-synuclein:

α-synuclein
cDNA:

Complimentary DNA
CLB:

Cybrid lewy body, Cybrid lewy bodies
CNTL:

Control
DM:

Differentiation media
DMEM:

Dulbecco's modified eagle medium
DNA:

Deoxyribonucleic acid
ECAR:

Extracellular acidification rates
EM:

Electron microscopy
ETC:

Electron transport chain
FCCP:

Carbonyl cyanide 4-(trifluoromethoxy)phenylhydrazone
gDNA:

Genomic DNA
GM:

Growth media
LB:

Lewy body, Lewy bodies
LCM:

Laser capture microscopy
mtDNA:

Mitochondrial DNA
NRF1:

Nuclear respiratory factor 1
OCR:

Oxygen consumption rates
PD:

Parkinson's disease
PGC-1α:

Peroxisome proliferator-activated receptor gamma coactivator 1-alpha
RNA:

Ribonucleic acid
RT-qPCR:

Quantitative real-time polymerase chain reaction
TFAM:

Mitochondrial transcription factor A
TFB1M:

Mitochondrial transcription factor B1.
Declarations
Acknowledgments
This research was supported by a Morris K. Udall Parkinson's Research Center of Excellence grant (7P50 NS039788-11) from the NIH and the Medical College of Virginia Foundation. EM samples were processed and embedded with the help of Jan Redick and Dr. Stacey Guillot at the University of Virginia Advanced Microscopy Facility. Microscopy (sections and imaging with the help of Judy Williamson) was performed at the VCU Department of Anatomy and Neurobiology Microscopy Facility, supported in part, with funding from NIH-NINDS Center core grant (5P30NS047463).
Authors' Affiliations
(1)
Neuroscience Graduate Program, University of Virginia, Charlottesville, USA
(2)
Parkinson's and Movement Disorders Center, Virginia Commonwealth University, Richmond, USA
(3)
Department of Neurology, University of Virginia, Charlottesville, USA
(4)
Department of Neurology, Virginia Commonwealth University, Richmond, USA
(5)
Department of Anatomy and Neurobiology, Virginia Commonwealth University, Richmond, USA
Copyright
© Cronin-Furman et al.; licensee BioMed Central Ltd. 2013
This article is published under license to BioMed Central Ltd. This is an Open Access article distributed under the terms of the Creative Commons Attribution License (http://creativecommons.org/licenses/by/2.0), which permits unrestricted use, distribution, and reproduction in any medium, provided the original work is properly cited.